NBC Insider Exclusive
Create a free profile to get unlimited access to exclusive show news, updates, and more!
Sign Up For Free to View
Hailey Mia Says Kelly Clarkson Gave Her 'Motherly Love' on The Voice
"Every time I walked into the rehearsal room, I was very comfortable," she says.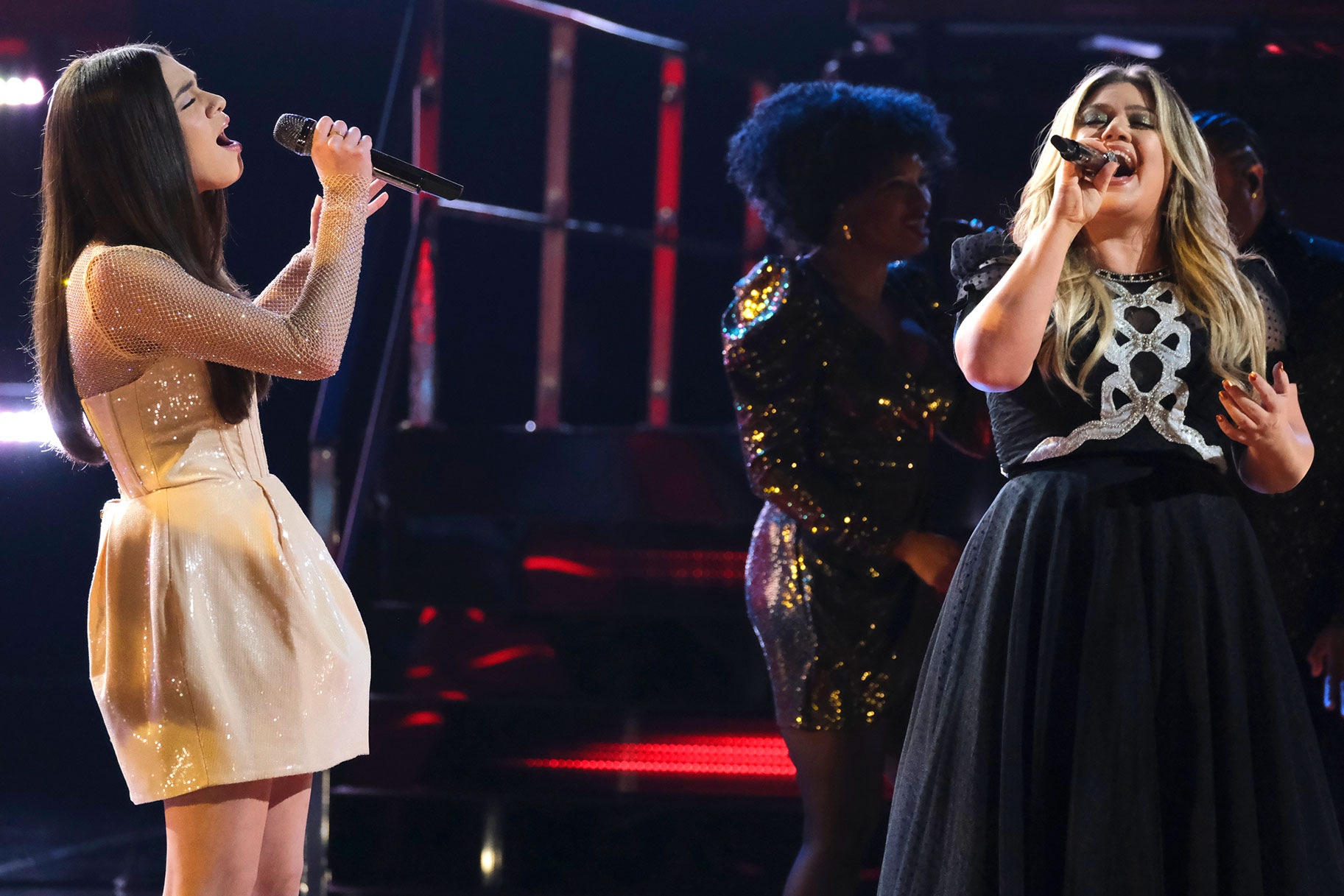 Hailey Mia had quite the journey on The Voice Season 21. The Clifton, NJ native was just 13 years old during her Blind Audition, and she wowed Judges Kelly Clarkson, Ariana Grande, Blake Shelton, and John Legend with her rendition of Tate McRae's "You Broke Me First." Clarkson and Grande turned their chairs around, and Hailey picked Team Ariana. 
But the story didn't end there. During the Battle round, Hailey and Raquel Trinidad both killed their takes on "Car Wash" by Rose Royce, leaving Grande with a very tough decision. She picked Trinidad as the winner, which put Hailey on the chopping block. But Clarkson swooped in with a Steal, and together she and Hailey made it to fourth place overall in the competition. 
It was a wild ride, and Hailey's recapping it all for NBC Insider. Read on, below, to learn more about her experience, her music plans, and the key advice she has for Artists competing on NBC's new music competition series, American Song Contest. 
NBC Insider: When did you first realize you loved music and wanted to pursue it? 
Hailey Mia: Ever since I was really little, I was always surrounded by really loud music constantly playing. I guess that's mostly from my dad, because he was always playing music, and he's probably my biggest music inspiration. I don't really have a specific moment where I was like, "I love singing," because it was always just a thing that I did. And then when I was about eight years old, I realized that I really wanted to take it seriously. Then, my mom put me in vocal lessons in the city, and I continued that for a couple years. And then when I was 12 or 11, I think I had auditioned for America's Got Talent, and then I realized I wanted to do The Voice. 
Do you have any music role models? 
I would say that my biggest music role model is Adele.  Ever since I was very, very tiny, I always listened to Adele. If I were to say what kind of Artist I'd want to be, I always say Adele. She's just very, very soulful and a very amazing Artist.  
What was your reaction when you found out that you booked a Blind Audition?
I remember when I first got my callback, I was incredibly nervous.  I love saying this, because I think it's hilarious, but I actually tripped on stage walking up the stairs. I just laughed it off, and then when I got on the stage, I let all my nerves go, and I started to sing. The funny thing is that I sing with my eyes closed because I really like to feel the music. But as I'm singing during my Blind Audition, I open my eyes once, and I see no one's turning around. Then I start to get kind of nervous, because now it's towards the end of the song. So I finish the song with my eyes closed, and I open my eyes when I'm officially done, and I see that Kelly and Ariana turned. I was literally screaming internally.  
Why did you initially decide to go to Team Ariana? 
I went with what I felt in that moment. From the beginning, when I found out that Ariana was going to be on the show, I was like, "Oh, my God, I would love to be on Ariana's team."  She's been one of my biggest inspirations since I was little. I would have been so honored to be on anyone's team, but to be on Ariana's team was a really huge deal for me.  So I think I just went with what I had planned initially.  
And then, of course, it was a journey.  You're about to be eliminated, and then you get saved by Team Kelly. What was going through your head during that time?  
When I found out that I didn't win when I was up against Raquel [Trinidad], I was first incredibly, incredibly happy for Raquel and super proud of her, because we both worked equally as hard on that song. I was just extremely proud of her. But also I kinda felt disappointed at the same time, because, you know, anybody is going to want to succeed and move forward on a show like that. [But] right away Kelly presses her button, and I was just completely in shock. I didn't really expect that whatsoever, but I believe that everything happens for a reason. I'm so grateful that Kelly did steal me, because I think it was probably the best decision ever. 
 What's one thing about working with Kelly Clarkson that surprised you?  
I think one thing about Kelly that surprised me was that she was the same person on and off camera. All the Coaches were, and as someone who's never even been to a concert before in their life, even though I'm a singer, that was really shocking for me. I don't know what I expected, but Kelly's just, like, the most motherly person. I didn't really expect that friend or motherly type of love, but I did receive that, and I'm very grateful for that. Every time I walked into the rehearsal room, I was very comfortable. Any 14-year-old is going to love that.
You've never been to a concert? Ever?
I've never been to a concert. What's so exciting is that my first concert is next Tuesday, and I'm going to see Billie Eilish.  
Is it just like you haven't had the opportunity to go to a concert?  
I guess a concert, for some weird reason, never really crossed my mind until now.   
There is a cute photo of you, your mom, and Ariana Grande on Instagram. What was it like hanging out with her? 
She's literally the most humble person I've ever met in my life.  She's very chill. She's very much herself at all times, and I love that so much. Even when the cameras were off and we were on commercial break, she would always make sure to wish us good luck before we went on. It was the most comforting thing ever. She's such a beautiful soul.
You have over 95,000 Instagram followers and even fan accounts. How are you adjusting to that?
At first, it was really crazy. I remember seeing my first my first fan page; I think it was a couple of weeks after Blind Auditions, and I was like, "Somebody has a fan page for me?" I could not even imagine that. I guess adjusting to it was just getting comfortable with people looking up to you, because at the end of the day, you need that connection with your fans. So I'm really grateful for that. I could not be more grateful to have them, because they're the reason why I'm here.
You recently teased on Instagram a new song that you're working on. What can you tell us about that?
That it's definitely in the works, and I've been spending a lot of time in the studio. I''m really excited to drop my first song. That's really all I can say.
Have you thought about what kind of music you'd want on an album? 
I'd say a little bit of everything, because I am definitely the type of person who is all over the place when it comes to music. But I'd say mostly pop music, kind of mellow and sad. Maybe a little bit of Billie Eilish and Olivia Rodrigo and Adele.  
NBC has a new music competition show coming out called American Song Contest. Do you have any advice for those Artists?
One hundred percent stay true to yourself.  Always voice your opinion. Never be afraid to speak up and just be yourself at all times and make sure you enjoy every moment, because you never know what you have 'til it's gone. I miss being on the show so much, and that's going to happen to anybody, because it's an amazing experience. You should be very, very happy and proud of yourself, and just take advantage of every moment.
For the unfamiliar, American Song Contest is modeled after Eurovision Song Contest and centers on singers from 50 U.S. states, five territories, and Washington, D.C performing original songs—and viewers decide which one is the best. It premieres Monday, March 21 at 8 p.m. ET on NBC.