NBC Insider Exclusive
Create a free profile to get unlimited access to exclusive show news, updates, and more!
Sign Up For Free to View
Tiny Horse No More! Timothée Chalamet's Giant Horse Leads to Full-on Sci-Fi Dystopia on SNL
Always go bigger with the sequel.
Always go bigger with the sequel. Saturday Night Live took that literally over the weekend during Timothée Chalamet's second time as host by pitting the Dune star against a gargantuan version of the viral "Tiny Horse" he sang about three years ago.
Now blown up to a nightmarish "Giant Horse" of mass destruction, the once-adorable equine companion terrorizes the planet — and the entire galaxy — in a dystopian future where humanity fights for its own survival. Their only hope of winning the day is Chalamet's Kwisatz Haderach-type figure, who sings another song in the hope of appealing to the horse's better nature and wooing the hoofed animal away from the malevolent influence of an Emperor Palpatine-esque villain (James Austin Johnson).
RELATED: Timothée Chalamet and Marcello Hernández's "Baby-Faced Dude" Rap Needs a Video ASAP
It's absolutely wild and, more important, just as catchy as the original ballad. You'll never look at stop-motion horses that fit comfortably inside your pocket the same way again. But then again, how many people can boast of such a friendship?
Watch SNL sequel to Timothée Chalamet's beloved "Tiny Horse" sketch
According to "Tiny Horse" co-writer Steven Castillo (who returned to pen the sequel sketch with Dan Bulla), longtime Saturday Night Live maestro, Lorne Michaels, knew the original video was going to be a hit with audiences. It just needed a small tweak in order to stick the landing.
"It was one of the few times we got called in into [SNL boss Lorne Michael]'s office and he gave us a note — sometimes our comedy brain could make it go dark at the end. And he said, 'People will love the Tiny Horse, so make it sweet at the end,'" Castillo recalled during an interview with Billboard in 2021. "That was a great note, because it could have broken people's hearts. Lorne said he's seen it done too many times, so he said, "Let's do something nice for once."
Chalamet's opening monologue also featured a musical number, in which the actor celebrated the end of the SAG-AFTRA strike, which lasted for over 100 days until it was resolved last week.
Set to the tune of "Pure Imagination" from Willy Wonka & the Chocolate Factory (Chalamet plays a younger version of the fabled candy maker in the upcoming Wonka), the parody song dealt with the topic of "shameless self-promotion," now that actors are able to finally promote their latest films and TV shows. "Look," he said to some hearty giggles from the audience. "The really important thing is the return of America's favorite industry...Hollywood!"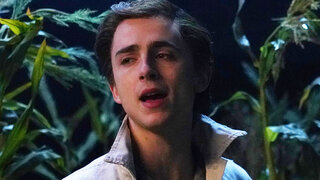 New episodes of Saturday Night Live air on NBC every Saturday at 11:30 p.m. EST before heading to Peacock next day.