NBC Insider Exclusive
Create a free profile to get unlimited access to exclusive show news, updates, and more!
Sign Up For Free to View
Please Don't Destroy's Ben Marshall Made His TV Debut As a Tonight Show Intern
As it turns out, Please Don't Destroy: The Treasure of Foggy Mountain stars Ben Marshall, John Higgins, and Martin Herlihy have all known Jimmy Fallon a long time—since childhood, in Higgins' case!
Prior to their Saturday Night Live debut in Season 47, Please Don't Destroy members Ben Marshall, John Higgins, and Martin Herlihy had already amassed an online following with their viral video sketches. While their D.I.Y. work had much lower production values than, say, a collab with Bad Bunny dressed as Shrek or a music video in which Taylor Swift deems them "Three Sad Virgins," the hilarious vibe was largely the same, hinging on the trio's seamless chemistry.
Does being funny run in the family? That's evidently the case for Higgins and Herlihy: As Please Don't Destroy discussed with Jimmy Fallon during their November 6 visit to The Tonight Show Starring Jimmy Fallon. John Higgins's father, Tonight Show announcer Steve Higgins, was a longtime writer on SNL, as was Herlihy's dad, Tim Herlihy (he also wrote Happy Gilmore). Fallon kicked off the interview by acknowledging how wild it was to have his former SNL coworker's two sons on the show all grown up, even sharing a photo of Higgins as a little boy sitting in Fallon's lap while he's dressed as Santa.
RELATED: Everything to Know About Peacock's Please Don't Destroy Movie
"My dad is actually another famous late night guy too," Ben Marshall joked. "Guillermo from Kimmel."
Please Don't Destroy's Ben Marshall was a "lipstick model" on The Tonight Show 
While Marshall is absolutely not Guillermo Rodriguez's son, he does have his own history with 30 Rock: He was an intern on The Tonight Show back in 2017. Before he was making videos with Travis Kelce on SNL, Marshall made his very first national TV appearance in a Tonight Show bit.
"Drew Barrymore was a guest, and she was trying to break the world record for most lipstick applications in thirty seconds," Marshall recounted, adding, "I remember, you guys singled me out."
RELATED: Seth Meyers Says Taylor Swift Wrote a "Perfect'"Monologue Ahead of Hosting SNL in '09
If you watch the clip above, Marshall's right; his future star power must have been a magnet even then. "I love a redhead," Barrymore remarked at the time. 
"The redhead guy's really happy," Fallon told Barrymore as lipstick-schmeared Marshall walked offstage—little did any of them know they'd work in the same building six years later.
Please Don't Destroy still can't believe Taylor Swift sang on "Three Sad Virgins"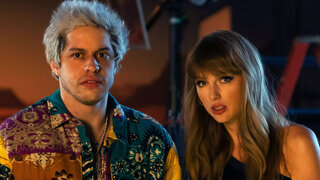 "We didn't think that she would do it," Higgins told Fallon.
"We pitched it to her. 'It's called Three Sad Virgins, and it's you and Pete making fun of us,' and she was like, 'yes,'" he continued. "She was like, 'I get that, about you guys."
"She was pitching more jokes to make fun of us, and we were like, 'okay hey, hang on," Marshall joked. 
"But now every time we're on the street, it's like, 'hey, sad virgin!' And it's not even true," Higgins added. "We're like, 'we're not sad!'"
If you can't get enough of the Please Don't Destroy boys on SNL, don't miss their movie, Please Don't Destroy: The Treasure of Foggy Mountain, premiering on Peacock November 17.