NBC Insider Exclusive
Create a free profile to get unlimited access to exclusive show news, updates, and more!
Sign Up For Free to View
The Blacklist, Grand Crew, and Magnum P.I. All Have Premiere Date Updates
Mark your calendars accordingly.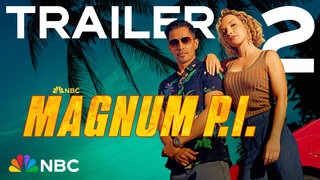 NBC's midseason schedule is well underway, and fans are loving the content. 
So far, the midseason 2022-23 schedule includes America's Got Talent: All Stars, a new entry into the AGT family that sees past winners, viral sensations, and fan-favorite Contestants coming back for a brand-new competition. And soon: Be on the lookout for Grand Crew, Magnum P.I., and The Blacklist, which all have premiere date updates! 
Behold: The full midseason 2022-2023 schedule for NBC. Mark your calendars accordingly. 
What's up next:
TUESDAY, JANUARY 24
8:30 p.m. – American Auto (Season premiere)
TUESDAY, JANUARY 31
9 and 10 p.m. – La Brea (Return from hiatus; back-to-back episodes one night only)
SUNDAY, FEBRUARY 19
9 p.m. – Magnum P.I. (Season premiere. Back-to-back episodes starting at 9 p.m.) Also: The February 19 all-Magnum evening will start with Season 4 encore telecasts at 7 and 8 p.m. 
SUNDAY, FEBRUARY 26
10 p.m. – The Blacklist (Season premiere)
FRIDAY, MARCH 3
8:30 p.m. – Grand Crew
MONDAY, MARCH 6
8 p.m. – The Voice (Season premiere)
TUESDAY, MARCH 7
9 p.m. – The Voice
10 p.m. – That's My Jam (Season premiere)
What's premiered already:
MONDAY, JANUARY 2
8 p.m. — America's Got Talent: All Stars  (Series premiere)
10 p.m. – Quantum Leap (Return from hiatus)
TUESDAY, JANUARY 3
8 p.m. – America's Got Talent: All-Stars (Encore)
10 p.m. – New Amsterdam (Return from hiatus)
WEDNESDAY, JANUARY 4
8 p.m. — Chicago Med (Return from hiatus)
9 p.m. — Chicago Fire (Return from hiatus)
10 p.m. — Chicago P.D. (Return from hiatus)
THURSDAY, JANUARY 5
8 p.m.  — Law & Order (Return from hiatus)
9 p.m.  — Law & Order: SVU (Return from hiatus)
10 p.m. — Law & Order: Organized Crime (Return from hiatus)
FRIDAY, JANUARY 6
8 p.m. — Lopez vs Lopez (Return from hiatus)
8:30 p.m. – Young Rock (Return from hiatus)
9 p.m. – Dateline NBC (Return from hiatus)
TUESDAY, JANUARY 17
8 and 8:30 p.m. – Night Court (Series premiere; back-to-back episodes one night only)
9 p.m. – New Amsterdam (Two-hour series finale)