NBC Insider Exclusive
Create a free profile to get unlimited access to exclusive show news, updates, and more!
Sign Up For Free to View
Kelli Giddish Revealed She's Expecting Her 3rd Baby with the Sweetest Photo
Just like Rollins, Giddish is expecting her third child.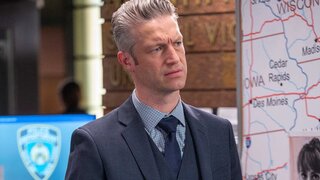 Law & Order: Special Victims Unit fans have been rooting for Amanda Rollins (Kelli Giddish)'s happiness for over a decade, and they got their wish. The beloved character is doing great: Rollins recently returned to Law & Order screens on both Organized Crime and SVU, and we learned she's thriving in her new job as a Fordham University professor of criminology. She's also expecting a baby with Carisi (Peter Scanavino), her third child overall. 
This news mirrors Giddish's real-life pregnancy with her husband, Beau Richard. The couple is expecting their first child together, much like Carisi and Rollins in their swoon-worthy SVU love story. Giddish took to Instagram to share the happy news in late May, posting a heartwarming photo of herself giving Richard a big smooch on the cheek. 
The expecting parents are glowing! Giddish captioned the sweet IG post, "can't wait to welcome our baby boy soon! @botorious."
We first learned about Rollins' pregnancy in SVU Season 24, Episode 21 ("Bad Things"). Carisi is nervous to be a new dad, but with the endlessly-empathetic Rollins as his partner, it's going to be a beautiful next chapter.
The moment on SVU when Rollins bid farewell to Benson (Mariska Hargitay) and the squad will forever stick with SVU fans, so it's exciting to see her doing so well. 
"We're friends," Rollins told Benson during her goodbye in the Season 24 midseason finale. "That's not going to change. And I'm not going to disappear."
"I wouldn't let you if you tried," Benson tearfully said. "Look, I know you have to do this."
"I have to try," Rollins said.
"Don't postpone joy," Benson told her, and it doesn't look like she did. Rollins has been crushing it as a criminology professor, and the blessings only continue to fall in her lap as she looks forward to a child on the way. 
"I am so excited about things going on in my personal life and kind of the mirroring of what's going on in my personal life and in Rollins', there's a lot of joy to be experienced," Giddish told Variety following her SVU exit. "I started playing her in my late 20s, so I've played her in three decades of my life, which is nuts... I got to play all kinds of different things — down and out, on top, joyful, doubtful, scared, triumphant. I got to do the gambit."