NBC Insider Exclusive
Create a free profile to get unlimited access to exclusive show news, updates, and more!
Sign Up For Free to View
Why Jershika Maple Says Ariana Grande Is the 'Most Down to Earth Person' She's Ever Met
The Voice Contestant says Grande is the "coolest and the cutest."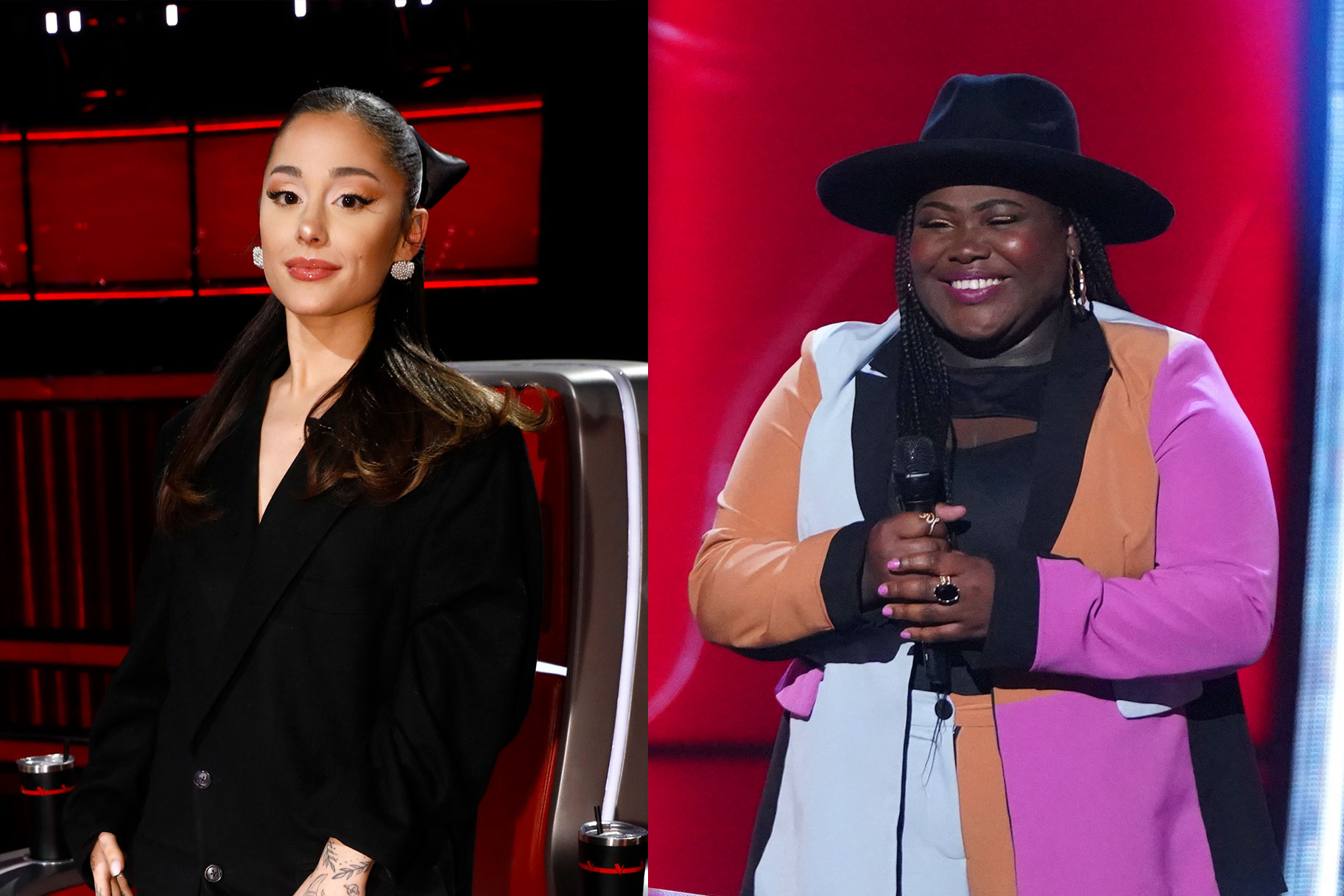 Jershika Maple had quite the journey on Season 21 of The Voice. The Texas native placed fifth overall in the competition, delivering many incredible performances along the way. (Her cover of "Inseparable" by Natalie Cole literally became a TikTok challenge!) Maple first entered The Voice on Kelly Clarkson's team, but then, after losing in the Battle rounds, was up for elimination. Coaches Ariana Grande and John Legend swooped in to steal her, though, with Maple ultimately picking Team Legend. 
But that doesn't mean she isn't a huge fan of Grande. The two shared some very sweet moments together behind-the-scenes. In November 2021, Maple posted some selfies she took with the "7 Rings" singer to Instagram and wrote, "Sooooo I'm Just in rehearsal today & Ari just walks in casually chilling with all of us, she just wanted to Say Hi… Let me tell y'all she really is so sweet on camera & off, she is so humble and kind."  And a few weeks later, Grande gifted Maple and Voice Season 21 Contestant Joshua Vacanti a bottle of her perfume. "I love you," Grande told Maple in the video Maple posted before the two shared a hug. 
When NBC Insider caught up with Maple a few weeks ago, she expressed very similar sentiments about Grande. "She's the most down to earth person I've ever met," Maple said. "You know, all the Coaches really are, but out of all of them, she really stood out." 
Maple specifically recalled how great Grande was with her Team. "She would text them and send them gifts, and you could see they would post these things on social media," Maple said. "She's just a really thoughtful person, and she puts a lot of thought into her gifts and her words and how she treats the people closest to her. Even the people who aren't!" 
There was one moment in particular where Maple realized just how "cool" Grande is. "We were in rehearsals, and she's just sitting in the stands, chilling with us like she's a Contestant," Maple said. "No security guards, just hanging out and literally under one of my friend's blankets. Just watching us rehearse and cheering us on. I freaking love her. She's the coolest and the cutest." 
And also the most congratulatory. "[Grande] actually waited in the area where we'd all load up into the van to go back to the hotel after every performance on Tuesday nights," Maple said. "She would always just be waiting there to say hello and congratulations to the people who made it to the next level." 
To steal Maple's words: That is some next-level kindness. 
If you like The Voice, you'll love American Song Contest, NBC's new music competition show where singers from 50 U.S. states, five territories, and Washington, D.C will perform original songs—and viewers decide which one is the best. It premieres March 21 at 8 p.m. ET on NBC.