NBC Insider Exclusive
Create a free profile to get unlimited access to exclusive show news, updates, and more!
Sign Up For Free to View
The Voice's Jershika Maple Says She Has a 'Lifelong Friendship' With Coach John Legend
The Season 21 finalist opens up about her experience on the show, working with Legend, and what's next.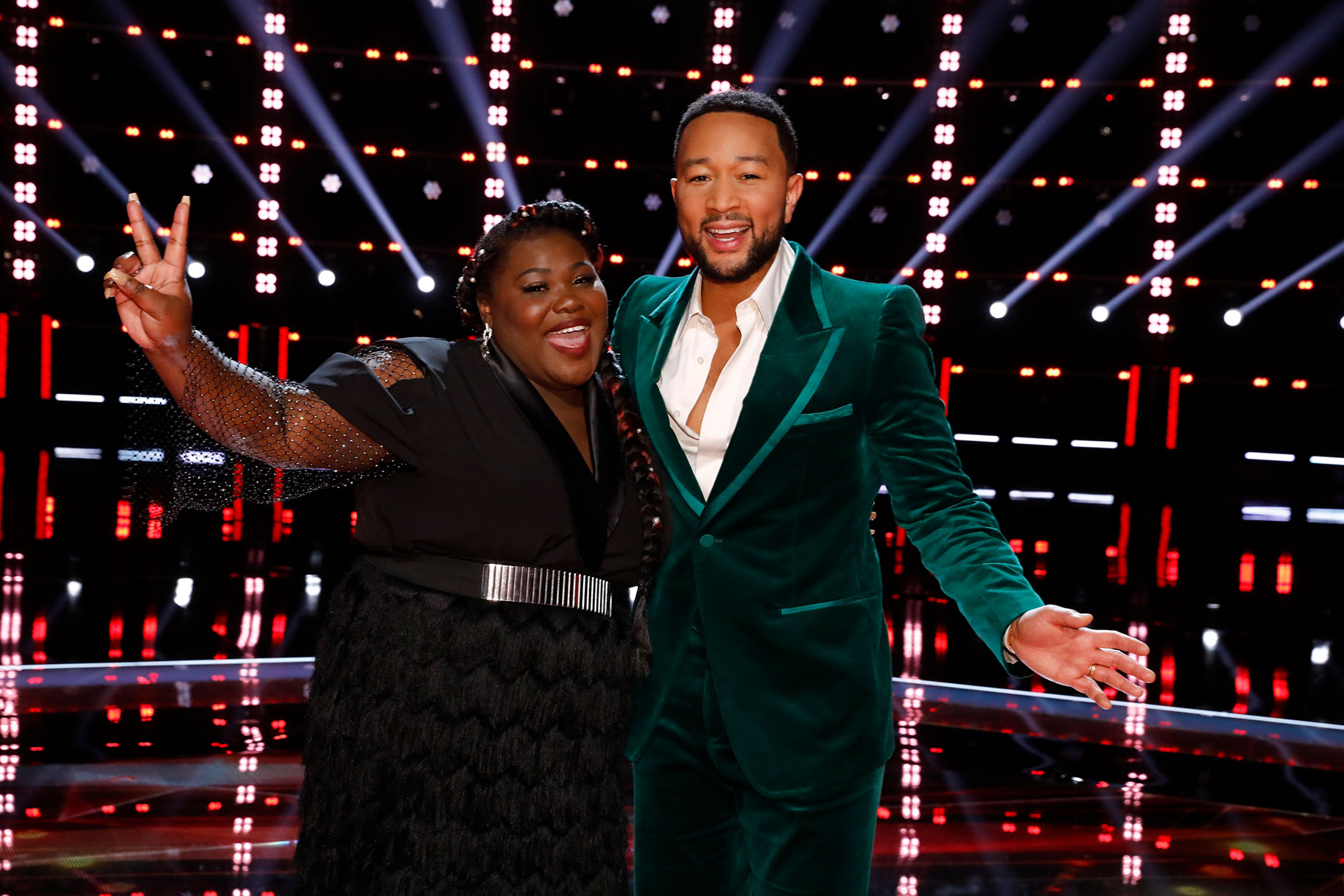 To say Jershika Maple's Blind Audition on The Voice was nerve-wracking would be an understatement. The 24-year-old Killeen, TX native gave herself a tall order, "Can You Stand the Rain" by New Edition, and pulled out all the stops to deliver. One minute into her performance, though, and no Coaches had turned their chairs—so she bet everything on one last high note. Almost simultaneously, Kelly Clarkson and John Legend spun around. 
She picked Team Kelly, but things didn't get easier from there. Maple was almost sent home during the Battle rounds after Clarkson selected Jeremy Rosado to continue in the competition over her. Thankfully, both Ariana Grande and Legend used their Steals to keep her in the game. Maple ultimately moved forward with Team Legend and made it all the way to fifth place. 
Her journey to the end of the season was jam-packed with memorable moments. Maple's run-tastic cover of "Inseparable" by Natalie Cole from the Knockouts went viral and inspired an entire TikTok challenge. She was also open about her dyslexia throughout the season, giving viewers insight into her life that made them love her even more. 
"Being myself was literally all I could offer because that's all I knew how to be," Maple tells NBC Insider. "This was my first time going into something like this. I didn't know how to be anyone but just Jershika. And I saw that people responded to me being just Jershika." 
Respond they have. Maple now has over 40,000 Instagram followers, and she's booked solid through September. Her cover of "Inseparable" is now available on streaming platforms, and more music is coming. As her busy year unfolds, Maple caught up with NBC Insider to talk The Voice, what's next, and why going Team Legend was the "best decision [she] could have ever made." 
NBC Insider: When did you realize you loved music and wanted to pursue it?
Jershika Maple: I was 3. My mom and dad, they had me in church, of course. But on the days where I didn't go to church, I would be watching Barney. I would sing the songs [from the show], but I would be shy if anybody came in. My uncle, he was like, "You kinda got a little voice. You singing that a little too good. They started enrolling me into school choirs and little talent shows at school. That's really where it started.
What made you decide to audition for The Voice? 
I always told myself I wouldn't do competition shows because I do not like competitions. But I was able to change that perspective for myself by saying I'm not competing with others, just myself. I repeated that a lot of times on the show…After the year of COVID, I prayed about it and I made [the decision] in my mind. I was like, "I'll just try something new and see where it goes." And I'm so glad I said yes to that, cause look at me now.
What was running through your mind when you found out you got a Blind Audition? 
Well, I was hoping and praying that the Teams weren't full, because once the Teams are full, that's that. I was grateful enough when they were like, "You got an audition date. You can audition"...Another thing that was running through my mind was what if I don't get a chair turn? I could do all this practice and all this work, and they don't like me.
If you watch the audition, you'll see it took them the longest time to turn for me. It made me think, "Man, I don't know what else to pull out of the bag. I've done all my cool stuff." And just when I thought I didn't have anything left, I was like, "Just nail this last note. They got to turn on that." I'm literally thinking this while I'm singing! Both of them [Clarkson and Legend] turned when I hit that high note, and it was such a relief. That's when I knew my life was changed forever.
What made you pick Team Kelly? 
Originally going in, I wanted to pick either Ariana or Kelly. Then, I started thinking Kelly knows how to win the show. I'm thinking competitively at that point. So out of my best bet, I picked Kelly. 
Then, during the Battle rounds, you were up for elimination, and both Team Legend and Team Ariana wanted you. How did you make that choice? 
John had said something really, really powerful to me. The message he said on camera was reassuring. Ariana said some really beautiful things too, but I definitely didn't want to let John down because he basically saved me again. He really, really wanted me the first time [during the Blind Audition]. If you guys saw the first episode when I was picking between Kelly and John, everyone was like "John, John, John," and I picked Kelly. So for this round, I didn't want to not have the opportunity to work with him. I think that was the best decision I could have ever made, 'cause right after that, I did the Knockout round, and that's when "Inseparable" came out.
The "Inseparable" TikTok challenge was everywhere, and you also now have 40,000 Instagram followers. How are you adjusting to fame?
I am incredibly grateful for every follower I have, every supporter. They're watching you, they're rooting for you, and they want to support you in your lifelong journey after the show. Everything is working out really well as far as my fans and support go. 
How did you find out the "Inseparable" TikTok challenge was even a thing? 
Some of my friends from the show were like, "That run was insane." They were really boosting it up for me and were like, "We should make it a challenge." So I'm reaching out to some of my friends like, "Hey, guys, can you do the challenge for me?" A couple of them did it on TikTok, and then some did it on Instagram. Then, I made a post of different videos I saw, 'cause it started to pick up. It started trending, and then the hashtag #ShikaRunChallenge was at, like, 1.2 million views on TikTok, which is so amazing. People are still tagging me in videos to this day. 
What was the most rewarding part about being on The Voice? 
My self-growth—being vulnerable before the world and getting judged on a national platform, some things positive and others not so positive. What people fail to realize is I'm only human. I'm not perfect, but at the end of the day, I do realize this is what I love. It made me realize even more that I should be doing this for the rest of my life. 
I also think it's opened so many doors—people are reaching out for me to talk about my dyslexia issues. Me being myself has helped a lot of people in positive ways. I'm just grateful I can share my stories and that people see my testimony and want more of me.
What surprised you the most about working with John Legend? 
He's another person who's super down to earth. When I tell you John Legend is so professional! He's going to tell you what he wants, what he sees, what the vision is for it, what he hears, and I appreciate that. Just to have someone at that level complimenting me about my craft and helping me with my craft, it really meant the world. I am grateful for our forever, lifelong friendship.
What are you most excited about for your career? Where do you see yourself in five years?
The most exciting thing for me is I am literally booked and busy. I'm booked through September, and I have been getting booked overseas.  I just put out "Inseparable" as a single. I'm also working on an album, which is gospel entirely.
In five years, I see myself doing film. I want to be the next Jennifer Hudson. I really see myself in that realm.  
Do you have any advice for the Artists competing on the new NBC show American Song Contest? 
I always circle back to the simplest thing, which is being yourself. Don't be afraid to let your light shine. Don't be afraid to step out, and don't be afraid to own what you're doing. You have a gift. Believe in yourself. Aways remember you're not in competition with anybody but yourself. 
American Song Contest premieres Monday, March 21 at 8 p.m. ET