NBC Insider Exclusive
Create a free profile to get unlimited access to exclusive show news, updates, and more!
Sign Up For Free to View
10 Iconic Moments From American Song Contest Hosts Snoop Dogg and Kelly Clarkson
They are both capital-L legends.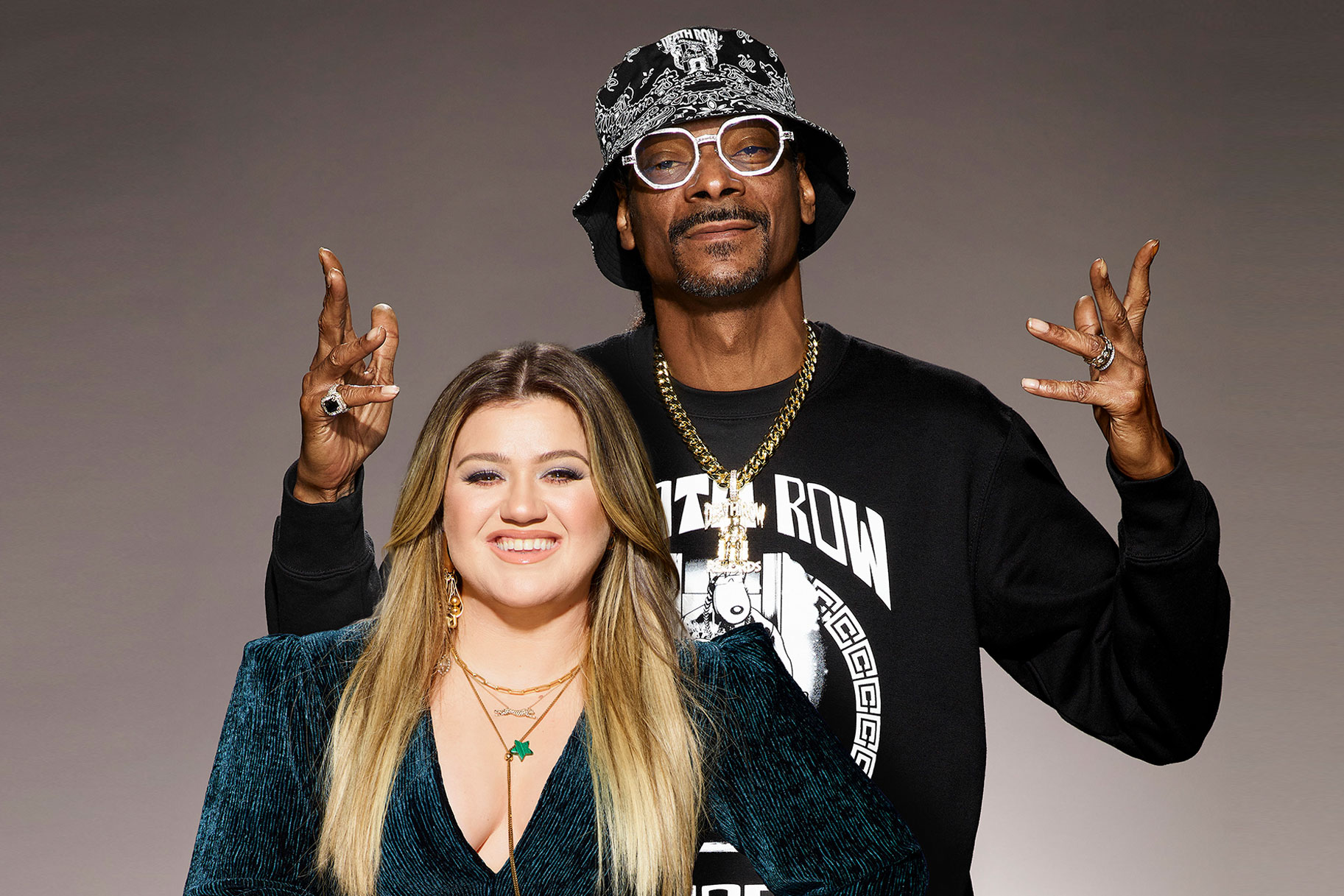 Not many people in the world know what makes a truly good song—but Snoop Dogg and Kelly Clarkson do. That's why they're natural fits to host American Song Contest, NBC's new music competition series that will feature 56 Artists representing all 50 states, five U.S. territories, and Washington, D.C. One Artist or Group per location will compete with an original song they hope America will vote as the best. After three rounds—the Qualifying Rounds, Semi-Finals, and ultimate Grand Final—only one state or territory will emerge victorious. It premieres Monday, March 21 at 8 p.m. ET on NBC. 
The show is modeled after Eurovision Song Contest, a long-running European music competition in which participating European countries submit an original Artist and song to represent them, and a voting process determines the winner. "I have been a fan and love the concept of Eurovision and am thrilled to bring the musical phenomenon to America. I'm so excited to work with Snoop and can't wait to see every state and territory represented by Artists singing their own songs," Clarkson said about hosting American Song Contest. And Snoop added, "I am honored to host American Song Contest alongside my lil sis Kelly Clarkson, a.k.a. Miss Texas."  
Snoop and Clarkson are legends, each with chart-topping discographies that span decades and genres. Ahead of their hosting duties, let's take a look back at some of their biggest career moments. 
1. His debut album, Doggystyle, made a splash, reaching number one on both the Billboard 200 Albums Chart and the U.S. Top R&B/Hip-Hop Albums Chart. The critical response was overwhelmingly positive, with Rolling Stone awarding it four stars out of five and the Chicago Sun-Times giving it a perfect score. Doggystyle is considered by RS to be one of the greatest albums of all time. 
2. He earned his first number one song on the Billboard Hot 100 Chart in 2004 with "Drop It Like It's Hot." The song earned Grammy nominations in 2005 for Best Rap Song and Best Rap Performance by a Duo or Group.
3. In addition to his music career, Snoop Dogg is also a bona-fide movie star, with more than 30 film credits to his name, including Soul Plane, Starsky & Hutch, and Training Day. 
4. His stats at a glance: 21 studio albums, 40 million albums sold worldwide, and 20 Grammy nominations. His latest album, BODR, dropped on February 11.
5. He just performed at the 2022 Super Bowl Halftime Show alongside Dr. Dre, Eminem, Mary J. Blige, 50 Cent, and Kendrick Lamar. 
Kelly Clarkson
1. Clarkson won the first season of American Idol in 2002 and from there released several Billboard Hot 100 chart-topping hits. They include but aren't limited to: "A Moment Like This" (#1), "Since U Been Gone" (#2), "Behind These Hazel Eyes" (#6), and "Stronger (What Doesn't Kill You)" (#1). 
2. She won Emmys in both 2020 and 2021 for her hit NBC talk show, The Kelly Clarkson Show. (She's also a Coach on The Voice.) Other awards she has to her name: three Grammys, four American Music Awards, three MTV Video Music Awards, two Academy of Country Music Awards, two American Country Awards, and one Country Music Association Award. 
3. She's a true genre shape-shifter and is the first Artist to top Billboard's pop, adult contemporary, country, and dance charts. (Her last dance hit, "Heat," is a banger.) 
4. She's written two successful children's books, River Rose and the Magical Lullaby and River Rose and the Magical Christmas
5. Her Kelly Clarkson Show "Kellyokes" (a.k.a her covers of popular songs) are Twitter staples. Many are must-see, including her rendition of fellow Voice Coach Ariana Grande's song "7 Rings."
Reminder: American Song Contest premieres Monday, March 21 at 8 p.m. ET on NBC.