NBC Insider Exclusive
Create a free profile to get unlimited access to exclusive show news, updates, and more!
Sign Up For Free to View
Heidi Klum Shared Rare Videos of Her Kids on a Fun Family Vacation
They look like they had a blast!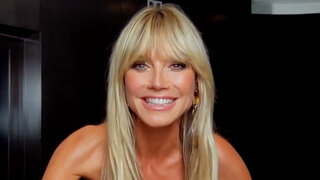 Heidi Klum just had the best getaway with her loved ones!
On June 17, the America's Got Talent Judge posted some fun footage of herself having an eventful vacation in a nature-esque setting with her family. 
A breakdown of her post: We first catch a glimpse of Klum's children playing with some cows before the family sits down and eats some delicious-looking dumplings with meatballs. In the next slide, someone places a beautiful flower crown on Klum's head before she makes a kissy face at the camera. Klum then peacefully blows a dandelion, and then we see her posing in an edgy leather jacket with a hoodie and some sweet shades in front of a snowy mountaintop. In another cute pic, Klum snaps a picture of a baby cow before she sits tranquilly on a swing on a grassy hill. 
"Weekend with the Familie," she captioned the post, followed by a slew of heart emojis. 
Klum is certainly close with her family, including her dashing husband, Tom Kaulitz, and her mini-me model daughter Leni. In a recent milestone, 19-year-old Leni left her mama's nest for New York City to study interior design, something that was supported by Klum.
In an interview with Talent Recap, Klum opened up about how she feels about her daughter's exciting  journey. 
"I've never gone to a dorm or anything like that, we don't have dorms in Germany," Klum said. "She's not going to a dorm, but I see these crazy things that people do all the time and I'm like, I hope she's holding on to all of the things I've been telling her all her life. Have fun, just not too much."
However, the change also comes with mixed emotions for Klum. "I'm trying not to freak out, 'cause, you know, we all have to do this at some point, we all have to leave the nest," she said. "You can't forever live with your parents. Sometimes I sit at the dinner table…and I literally have to go cry somewhere and come back because it's so sad." 
Klum added, "New York is kind of our home away from home. We've always been in New York filming and shooting and my daughter knows New York very well, so it's not like going to a new place she's never been before. So, I think she'll do OK with the city."