NBC Insider Exclusive
Create a free profile to get unlimited access to exclusive show news, updates, and more!
Sign Up For Free to View
Meet Heidi Klum's Daughter, Leni, Her Mini-Me
She's following in her supermodel mama's footsteps!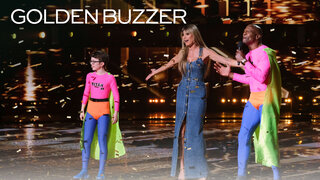 AGT Judge Heidi Klum's talent runs in the family. Case in point: Her 18-year-old daughter, Leni, who's following in her mom's footsteps and establishing a modeling career of her own.
Just look here, where Leni can be seen looking gorgeous in a campaign for Dior Beauty promoting its classic 999 red lipstick. Or her photoshoot-worthy candids from Coachella 2023. But what else has Leni done? Here's everything you need to know about Heidi Klum's daughter, Leni.
Who is Heidi Klum's daughter, Leni? 
Leni was born in May 2004 and adopted by Klum's then-husband, Seal, in 2009, according to People. 
Does Heidi Klum have other kids?
Leni has three siblings: Henry, Johan, and Lou.

Heidi and her then-husband, Seal, welcomed their son Henry into the world in September 2005, then there son Johan in November 2006, and finally their daughter Lou Sulola in October 2009.
When did Heidi Klum's daughter Leni become a model?
Leni told People in an interview that she has been inspired by her mother's modeling career from a young age. "I've always gone to work with my mom and thought, 'This looks so fun. She looks so happy while she's working,' jump in sometimes, and I'd play around with the makeup that her makeup Artist would bring," she said.
Leni's dream came true when she got to be on the cover of Vogue Germany with her supermodel mother at the age of 16. "That's, like, insane that I did that as my first job and my mom was with me, which made it so much fun. It was just such a good day. I wasn't nervous at all. I was just so excited," she continued. 
What is Leni's relationship to mom Heidi Klum really like?
When it comes to Leni's relationship with Heidi, the two are very close. "My mom and I are just completely comfortable around each other, and we were dancing around the whole day. That was what we had to do, and we do that anyway, so it just fit right. It was just such a fun day," Leni said when describing modeling for Italian brand Intimissimi with Heidi.
Where is Heidi Klum's daughter Leni going to college?
According to People, Leni is currently studying interior design in New York City while balancing her time on the runway. "It's been amazing. I've always dreamed of moving out and designing my own apartment. I have been talking about it since I was 14. And I finally did it. I used to come to New York every summer with my family because my mom had work here, and I loved it. I knew that I wanted to go to school here and study interior design," she gushed.

Of course, Leni leaving for college was hard on Heidi Klum. 

"I'm trying not to freak out, 'cause, you know, we all have to do this at some point, we all have to leave the nest," Klum told Talent Recap. "You can't forever live with your parents...Sometimes I sit at the dinner table…and I literally have to go cry somewhere and come back because it's so sad." 

That said, Heidi is confident Leni will excel in NYC. "New York is kind of our home away from home. We've always been in New York filming and shooting and my daughter knows New York very well, so it's not like going to a new place she's never been before," explained Klum. "So, I think she'll do OK with the city."
This story was originally published on April 18, 2023. It was updated June 28, 2023.