NBC Insider Exclusive
Create a free profile to get unlimited access to exclusive show news, updates, and more!
Sign Up For Free to View
Everything To Know About Quantum Leap Season 2
Dr. Ben Song is getting ready to leap right back where he belongs - on TV this fall.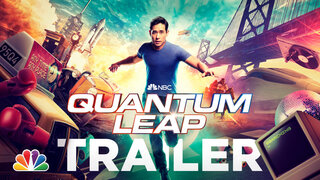 Quantum Leap has jumped right back into primetime this fall on NBC and Peacock with a brand new season of wild missions — so here's everything you need to know to leap into Season 2 of the hit adventure series.
The show, a revival of the beloved early-1990s sci-fi adventure series that starred Scott Bakula as Dr. Sam Beckett, picks up in the present day with a new team and new "leaper" sliding in and out of key moments in history trying to set right what has gone wrong. Raymond Lee stars as Dr. Ben Song, a man who is essentially lost in the time stream, showing up everywhere from 1990's NASA missions to the Wild West as he tries to correct problems in history to make the world a better place. One leap at a time.
New episodes of Quantum Leap Season 2 air Wednesday nights at 1 p.m. ET on NBC, and episodes stream next-day Thursday on Peacock starting at 6 a.m. ET.
Where Does Quantum Leap Pick Up in Season 2?
The set-up is pretty easy: Ben leapt through time, and just like Dr. Sam Beckett before him in the OG series, the mechanism to bring him home never seems to be working quite right. To make matters worse, leaping also causes a bit of a "swiss cheese effect" on memories, so Ben is sometimes a little fuzzy on the details regarding his departure and situation. Basically, it's easy to jump in at any point, mostly because that's what Ben is also doing week-to-week.
Season 1 found Ben wrapping up his time-hopping mission to save his fiancee Addison (Caitlin Bassett) thanks to a warning from the future, and ended with Ben leaping into parts (and time periods) unknown. Season 2 picks up three years later with Ben still leaping around the time stream, and we can expect him to pop up in all kinds of wild places, meeting all kinds of cool guest stars along the way (Manifest fan favorite Melissa Roxburgh has already been announced as a Season 2 guest star).
What is Quantum Leap?
The name of the show — Quantum Leap — refers to the name of the time travel project that sent Ben leaping through time. The series jumps between Ben's leaps in the past, and the work of the Quantum Leap project team in the present day trying to provide support and help him get home. Basically, every episode finds Ben dropping into a different person's life in a different time period. Along the way, he's gotten stuck in a time loop, saved a space mission from crashing and handled a potential exorcism. All in a day's work for a time traveler.
Who Stars in Quantum Leap?
The present day team includes Raymond Lee as leaper Dr. Ben Song; Caitlin Bassett's Addison as Ben's fiancee and hologram support; Ernie Hudson as project lead Herbert "Magic" Williams; Mason Alexander Park as Ian Wright, the science genius helping keep the project running; and Nanrisa Lee as project security chief Jenn Chou.
Season 2 sees the addition of two new series regulars: Eliza Taylor (The 100) and Peter Gadiot (Yellowjackets).
Taylor will play Hannah Carson, a "complex young woman, who may be more than she appears," reads the official description provided by the network. The character will make her Quantum Leap debut in the third episode of Season 2.
Gadiot, meanwhile, is set to play Tom Westfall, a former special forces soldier and a high-ranking US Army Officer in the realm of Army Intelligence. "Thoughtful, centered, a spiritual kind of warrior who both men and women admire, but whose humility keeps him from ever being arrogant. Tom will take on a crucial role overseeing the project."
Is there a Quantum Leap Season 2 trailer?
Yes, Quantum Leap's Season 2 trailer dropped hot on September 18, giving us our best look yet at what to expect. As you can see in the trailer above, the action is perfectly set to The Chamber Brothers' 1966 hit "Time Has Come Today." The teaser finds Dr. Song time-hopping across all sorts of different eras, including a stop in the future! Thanks to the new trailer, now we know that he'll be leaping into the body of a spy in Egypt in 1961, taking on a UFO investigation in 1949, and even stepping all the way back to 1692 to get a scary closeup look at the Salem Witch Trials.
How to Watch Quantum Leap Season 2
Season 2 of Quantum Leap premiered Oct. 4, 2023, and new episodes air Wednesdays at 8 p.m. ET, and stream on Peacock the day after they air on NBC.
The first season of Quantum Leap is now streaming in its entirety on the NBCUniversal streaming service, Peacock, so you can relive all 18 episodes right now, or experience them for the first time. But don't worry, you can always just jump in on Season 2 and follow right along. The classic early-1990s Quantum Leap series is also on Peacock.
Originally published Jul 19, 2023.