NBC Insider Exclusive
Create a free profile to get unlimited access to exclusive show news, updates, and more!
Sign Up For Free to View
Why Dolphins' Tua Tagovailoa Has Jiu-Jitsu to Thank for Record-Setting 2023 NFL Season
The Dolphins QB looks to bring his falling skills to Sunday Night Football this week.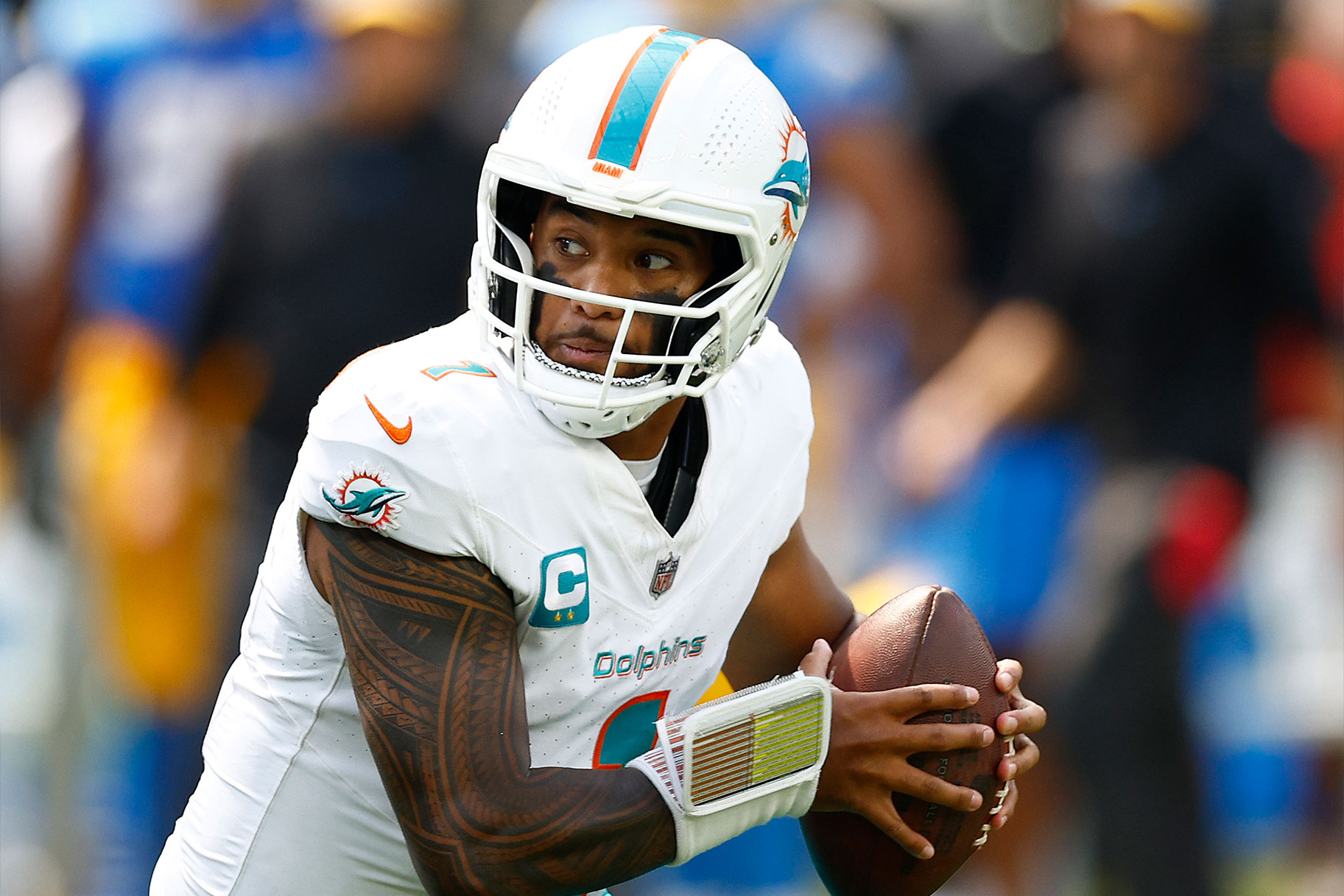 Tua Tagovailoa, one of the most electric players in the NFL, missed a chunk of the 2022 season due to concussions — so he got creative in the offseason to make sure he can hopefully stay healthy this year. The unique addition to his training regiment? Jiu-jitsu, so he could learn how to fall like a pro. Or well, like a pro fighter to avoid further injury.
The 25-year-old Miami Dolphins quarterback implemented jiu-jitsu training to add the techniques in absorbing contact and learning how to fall and roll safely, in an effort to avoid further head injuries when getting sacked or tackled to the turf. In an interview with ESPN, Tagovailoa explained the training was beneficial in preparing him for live action when the season began, since quarterbacks typically go the entire training camp without taking a hit.
RELATED: Why Is Notre Dame Independent and Not in a College Football Conference?
"We don't even get touched until the season starts," he said. "So I mean, with jiu-jitsu, I've been thrown airborne, I've been put in many uncomfortable positions for me to learn how to fall and try to react throughout those positions that I'm getting thrown around in."
It might seem a bit outside the box, but the science backs up the idea. Dr. Walavan Sivakumar, director of neurovascular surgery at Pacific Neuroscience Institute in Los Angeles, told The Athletic that there is "absolutely something" to the idea of learning how to use "body mechanics" to fall more safely: "Yes, you can lessen the impact."
Dolphins coach Mike McDaniel responds to Tua's jiu-jitsu skills
Dolphins head coach Mike McDaniel has also bought into the idea that jiu-jitsu can help keep his quarterback stay healthy on the field. And — at least to this point heading into Week 7 — the bet is paying off.
"People were scoffing at him about jiu-jitsu. He understood the value of it and really, really put a lot of time into that. He put time into his body. He knew exactly what he wanted and he's taken control," McDaniel told NBC Sports. "He's in a spot where he's not vulnerable to too much success and having a big head. I'm telling you, this is the most mentally-tough dude that I've ever been around. And the most coachable. It's gonna be fun to watch him play, them play, and see what they're able to do with this season."
Through Week 6 of the current NFL season, Tagovailoa has already thrown for 14 touchdowns against five interceptions, leading the Dolphins to one of the most electric offensive outputs in NFL history (just two weeks ago, the Dolphins hung 70 points on the Denver Broncos in a blowout win). The team also broke the NFL record for most yardage through five games, led by Tagovailoa's quick-trigger release.
Tagovailoa will get a chance to show off his new falling skills in primetime this week, as the Dolphins take on the Philadelphia Eagles (a match-up of two recent University of Alabama quarterbacks) on NBC and Peacock's Sunday Night Football at 7 p.m. on Sunday, October 22. The game pits two of the best offenses in the NFL against one another, with both teams looking primed for a deep playoff run.
But the key to it all, and what will hopefully keep Tagovalioa healthy as the season wears on? Falling with style.