NBC Insider Exclusive
Create a free profile to get unlimited access to exclusive show news, updates, and more!
Sign Up For Free to View
Why Is Notre Dame Independent and Not in a College Football Conference?
Looking back at Notre Dame's long history of independence.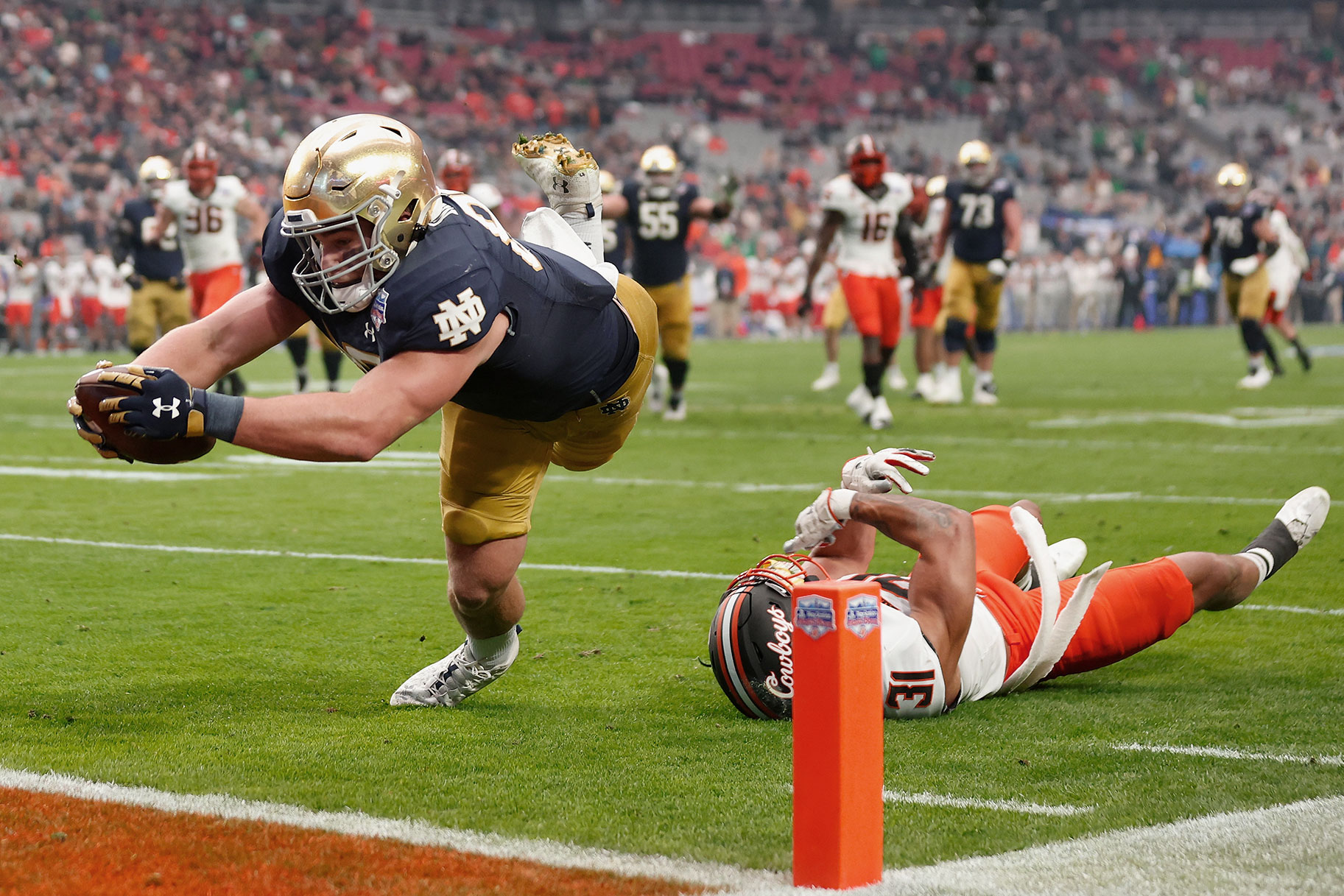 Notre Dame is one of the most storied brands in college sports, but it's also one of the last holdouts when it comes to joining an athletic conference. Where most football blue bloods have joined conferences like the Big Ten or SEC over the years, the Fighting Irish have remained independent — but why?
The University of Notre Dame is located near South Bend, Indiana, and has been playing college football since 1887. Along the way, the Irish have become one of the most recognized teams in the sport, winning 11 consensus national championships. In recent years, Notre Dame has frequently been in the championship and playoff hunt, with teams often ranked in and around the Top 10 year-to-year.
Why is Notre Dame independent?
The Fighting Irish were ahead of the curve in the early 1990s, and while most teams were part of conferences that were cutting TV broadcast deals for their games, Notre Dame opted to sign its own broadcast agreement with NBC to air Notre Dame home games — a deal that remains in place to this day (with games now aired on NBC and streamed on Peacock).
RELATED: Which Football Teams are in the Big Ten
With its level of prestige, Notre Dame is one of the few teams in the nation that can actually command its own individual broadcast agreement, but the deal allows Notre Dame to maintain its independence while guaranteeing the program is among the most accessible for fans to find the team's games on TV. Basically, it allows Notre Dame far more control than most other teams have over their program.
Notre Dame also maintains scheduling flexibility with its independent status, meaning the university can line up games against A-list teams from many different conferences, including match-ups against the Pac 12's USC, the Big Ten's Ohio State, and the ACC's Clemson. With Notre Dame's status as a college football heavyweight, the Irish still hold plenty of power and attractiveness to schedule high profile games free from conference requirements.
What conference does Notre Dame Play in?
Notre Dame's football team is independent and doesn't play in a conference, but the team has an agreement with the ACC to play five games per year against ACC opponents, which helps ensure Notre Dame has a competitive schedule resume year-to-year for poll and playoff contention. 
Outside of football, Notre Dame's other sports compete in the ACC (except for men's hockey, which plays in the Big Ten). Though the football team remains independent.
Has Notre Dame ever played in a conference?
One anomaly in Notre Dame's record of independence came in 2020, when college football schedules were in chaos due to the COVID-19 pandemic. Most teams and conferences played adjusted and truncated schedules, with many opting for conference-only schedules to eliminate exposure as much as possible.
So Notre Dame actually competed in the ACC for the 2020 season, playing 10 ACC conference games and technically eligible to compete for the ACC conference championship. That season, Notre Dame actually reached the ACC Championship Game, but lost 34-10 to Clemson.
RELATED: How to Watch Notre Dame Football This Week
What other football teams are independent like Notre Dame?
Notre Dame is easily the highest profile team that is still independent in college football, but it's not the only one. The United States Military Academy (Army) remains independent, along with the University of Connecticut and University of Massachusetts Amherst. 
How to watch Notre Dame football games
The majority of Notre Dame's games this year can be viewed on both NBC and Peacock. This marks NBC Sports' 33rd season broadcasting Notre Dame football. Jac Collinsworth and Jason Garrett will be announcing the games from the booth; Zora Stephenson will be on top of all the action from sidelines.
Games airing on NBC can be found on the NBC broadcast network, available via over-the-air antenna or on most major cable and/or TV streaming packages in the local channel options. This season will also find some games streaming exclusively on the Peacock streaming service.
Games airing on NBC will also be streamed on the Peacock streaming service, which is available for 5.99 per month for a Premium plan, which offers new and hit original shows and films, live sports, current NBC and Bravo shows, plus more than 50 always-on channels. A Premium Plus plan is also available for $11.99 per month, which features no ads (with limited exceptions), plus live access to your local NBC channel and the feature to download and watch select titles offline.