NBC Insider Exclusive
Create a free profile to get unlimited access to exclusive show news, updates, and more!
Sign Up For Free to View
Which Football Teams Are in the Big Ten?
From The Horseshoe to the Big House — and all the great pigskin places in between.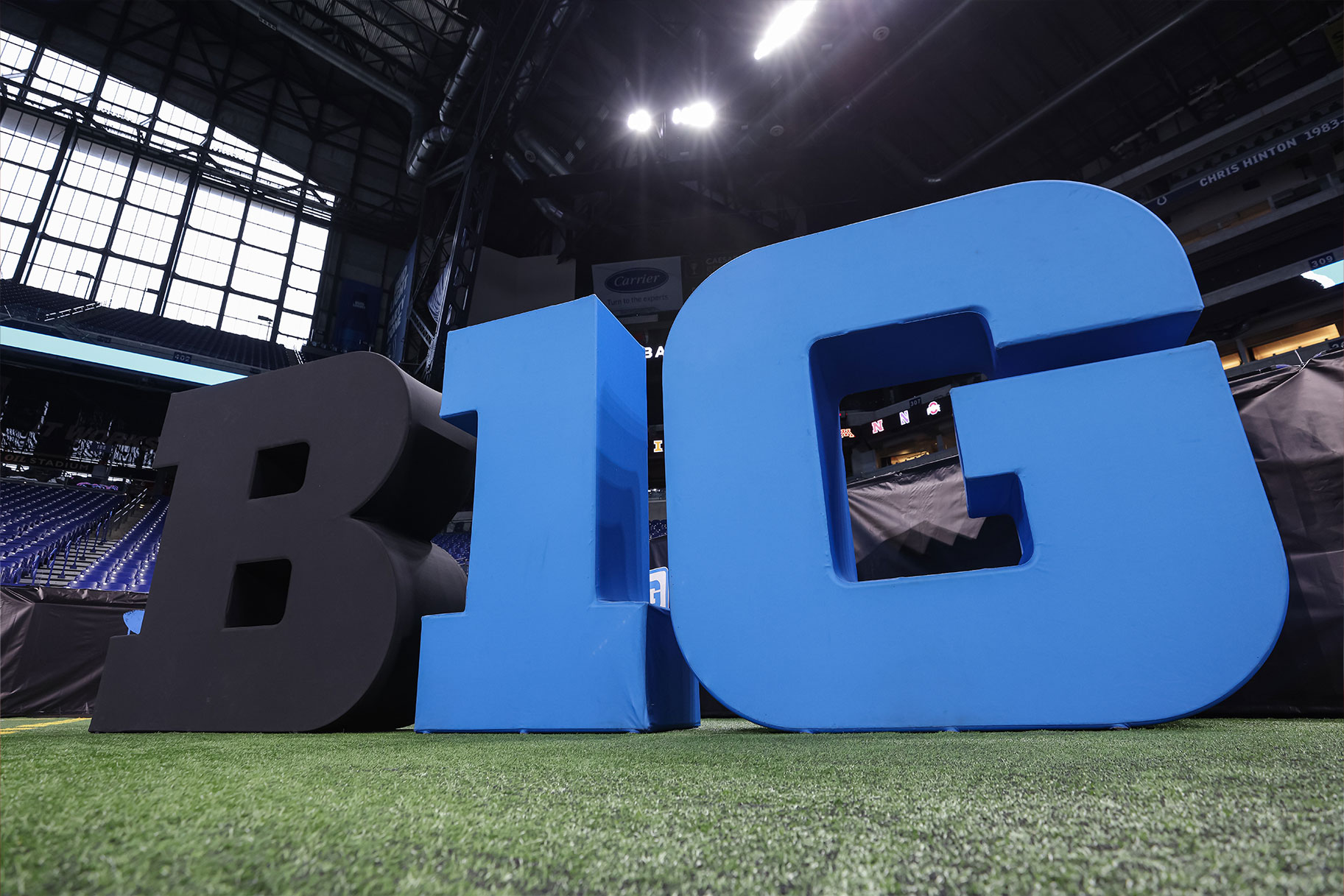 Coaching carousels, conference realignments, and more things to perennially ponder! When it comes to the fast-moving, yet tradition-bound world of college football, some things will always stay the same... no matter how confusing those head-spinning yearly changes seem to get.
No college football conference is richer in old-school tradition than the mighty Big Ten, even if the "Ten" in its title doesn't quite reflect the growing group's current 14-member roster. By this time next year, in fact, that number will climb even higher, as no fewer than four new teams — all defectors from the Pac-12 — will swell the conference's ranks to a hefty 18 members beginning with the 2024 football season.
RELATED: Which Big Ten Games Are on NBC and Peacock This Week? How to Watch Michigan, Penn State
With a whole lot of marquee Big Ten action moving over to NBC and Peacock as part of a blockbuster sports rights deal this season, it's a great time to get familiar with exactly who is in the conference right now — and who will be joining soon.
But as Week 1 of this year's college football season gets underway, let's pause, take a breath, and take stock not of where the sport is heading, but of where it is right now. If you're in need of a little touch-up on where the Big Ten stands as a conference in 2023 — before the winds of change reshape the college football landscape in 2024 — well, you've come to the right place.
From a refresher on which teams claim the Big Ten as their own to how their divisional rivalries shake out, huddle around our off-the-field cheat sheet to break down the present-day shape of the conference that the Ohio State Buckeyes, the Michigan Wolverines and more call home as the 2023 football season gets underway.
Which teams are in the Big Ten?
Before we dive down the long list of Big Ten football teams, here's a clarifying word about a couple of schools that, despite having an athletic affiliation with the Big Ten in other sports, aren't included for football purposes in the conference's current 14-member lineup. Notre Dame and Johns Hopkins each enjoy a broader affiliate-member status with the Big Ten, though that affiliation uniquely doesn't apply to the TV-driven, revenue-generating world of college football.
Both the Notre Dame Fighting Irish and Johns Hopkins Blue Jays field football teams of their own, of course — but neither team competes in Big Ten football. Notre Dame continues to operate as an independent team outside any conference's annual championship race, while Johns Hopkins football competes in the NCAA Division III Centennial Conference — alongside fellow non-scholarship athletic programs like Dickinson and Gettysburg.
With that out of the way, here's an alphabetical listing of the actual Big Ten's 14-member football lineup:
Illinois
In academics, it's known as the University of Illinois Urbana-Champaign. In sports, though, it's known simply as Illinois, the one and only home of the illustrious Fighting Illini. While the orange and blue haven't put on major power moves in football of late, they're one of the Big Ten's founding football institutions, and ended the 2022 season with a respectable 8-5 record — a finish marred slightly by a 19-10 loss to Mississippi State in the ReliaQuest Bowl. Watch for head coach Bret Bielema to put the fight in the Illini's name this year, as Illinois kicks off the 2023 season with a September 2 start against the Toledo Rockets.
Indiana
Whatever you do, don't call it the University of Indiana. Indiana University Bloomington is the proper name, though fans know the crimson-and-cream Hoosiers — a perennial basketball powerhouse — familiarly as "Indiana." The Hoosiers missed out on post-season play in 2022, finishing the season with a 4-8 record. Watch for head coach Tom Allen to find an early chance to play spoiler this year, though; Indiana starts 2023 at home on September 2 against conference foe (and preseason No. 3-ranked) Ohio State.
Iowa
Anchored in Iowa City, the University of Iowa put a black-and-gold beatdown on the Kentucky Wildcats in last season's Music City Bowl to add a crowning win to coach Kirk Ferentz' 8-5 2022 football season. The Hawkeyes have the wind at their backs to kick things off for 2023, opening the new season at home on September 2 against Mountain West visitors Utah State.
Maryland
If you've ever seen the University of Maryland take the field, you know they boast one of the most colorful unis in all of college football. Sporting the same black, red, gold, and white pattern that graces the Maryland state flag, the Terrapins look the part even when their record — like last year's 4-8 finish — has them snapping at the chance to improve. Coach Mike Locksley will have the Terps ready to do just that on September 2, when the Towson Tigers make the short trip down to College Park for the 2023 season opener.
Michigan
Like the Trojans, the Tide, and even the arch-nemesis Buckeyes themselves, the Michigan Wolverines enjoy universal mascot recognition among even the most casual of college football fans. Steeped in pigskin tradition dating all the way back to 1879, the pride of Ann Arbor commences the 2023 season with a lofty No. 2 preseason ranking and a keen eye on scrapping back into playoff contention.
The Wolverines' only blemish last season came at the worst possible moment, with a close 51-45 Fiesta Bowl tap-out against TCU in the 2022 playoff semifinals. But coach Jim Harbaugh and his squad are on a maize-and-blue mission once again this year. Catch the Wolverines' season opener exclusively on Peacock, when the East Carolina Pirates visit the Big House for a 12 p.m. ET kickoff on Saturday, September 2.
Michigan State
The school that helped Nick Saban cut his early college coaching teeth, the Michigan State Spartans are currently coached by Mel Tucker. Finishing last season on a bit of a letdown with a 5-7 record, Sparty is looking to wipe the slate clean for 2023 with home field advantage from the jump, hosting the Chippewas of Central Michigan to start the season afresh on Friday, September 1.
Minnesota
Coach P.J. Fleck took the Minnesota Golden Gophers bowling last season, besting ACC foe Syracuse in the 2022 Pinstripe Bowl to finish 9-4 on the year. This season, the storied Gophers' program kicks off conference play early; Big Ten rival Nebraska will be awash in a hostile maroon-and-gold environment when the Cornhuskers come calling for a Thursday, August 31 opening game at Minnesota's Huntington Bank Stadium.
Nebraska
Once a proud Big 12 power, the Nebraska Cornhuskers brought more than 100 years of scarlet-and-cream tradition over to the Big Ten back in 2011, when the 'Huskers — one of college football's most historically prestigious programs — made their decisive conference leap. Led by Matt Rhule, who replaced former coach Scott Frost early in a tumultuous 2022 season, Nebraska finished with a disappointing 4-8 record last year. Rhule's first full year at the coaching helm this year will definitely begin with a tough conference test: Nebraska travels to Minneapolis on Thursday, August 31 to launch their 2023 campaign against fellow Big Ten foe Minnesota.
Northwestern
Known these days as an academic force to be reckoned with, Northwestern University's Big Ten roots run deep, as the Evanston, Illinois school was one of the conference's original founding members. For 2023, the purple-and-white Wildcats begin the season with some key question marks, thanks to a disappointing 1-11 finish last year and the summertime dismissal of longtime coach, Pat Fitzgerald. Under interim coach David Braun, the 'Cats will be looking for an early conference win on the road. Their season starts with a September 3 trip to New Jersey to take on Big Ten opponent Rutgers.
Ohio State
Like state-line rivals Michigan, the Ohio State Buckeyes hardly need much of an introduction to all but the most uninitiated of college football followers. Perennially near the top of the short list of the sport's most competitive teams, the Bucks cut a grey-and-scarlet path all the way to the edge of last year's championship game, falling to eventual title-taker Georgia in a heartbreaking 42-41 loss in the 2022 playoff semifinal at the Peach Bowl.
With a preseason No. 3 ranking and a September 2 kickoff date on the road against Big Ten foe Indiana, coach Ryan Day is leading the Buckeyes into 2023, as always, with realistically high national championship expectations.
Penn State
When you think of college football's most unshakeable traditions, the old-school look and hard-nosed work ethic that's historically defined the Nittany Lions of Pennsylvania State University — familiar to fans as Penn State — rates right alongside teams like Notre Dame, 'Bama, and fellow Big Ten foes Ohio State and Michigan. Though Penn State's football bona fides date all the way back to 1887, the football program remained conference-independent until joining the Big Ten in 1993.
Last year, Penn State ended the season with an 11-2 record, a No. 7 AP ranking, and a Rose Bowl win over Pac-12 champion, Utah. This year, coach James Franklin leads the Nittany Lions out with a preseason No. 7 ranking for a home opener at Beaver Stadium in State College against visiting Big 12 opponent West Virginia. Catch the action on NBC and Peacock, where the game is set to kick off live beginning at 7:30 p.m. ET on Saturday, September 2.
Purdue
A founding member of the Big Ten, the Purdue Boilermakers carry high hopes and a proud black-and-gold pedigree into the 2023 season under first-year head coach Ryan Walters. Before departing at the end of last season to take the new head coaching position at Louisville, former coach Jeff Brohm led the Boilermakers to an 8-6 winning record — though the 2022 season did end on a sour note thanks to a lopsided drubbing against LSU in the Citrus Bowl. Walters will bring his keen defensive mind to chart a fresh course this year, as Purdue kicks off at home in West Lafayette, Indiana on September 2 against Mountain West challenger Fresno State.
Rutgers
The Scarlet Knights of New Jersey's Rutgers University joined the Big Ten during the same 2014 conference expansion that also added Maryland to the mix. They enter the 2023 season with New Jersey native Greg Schiano once again at the head coaching helm. Schiano and the Knights ended 2022 with a lackluster 4-8 record, a trend they'll be looking to reverse when Big Ten rival Northwestern travels to Piscataway on September 2, opening the season with a for-keeps conference matchup.
Wisconsin
They've produced two Heisman winners and field a home-team environment every bit as fierce as their feisty mascot. Yep, we're talking about the Wisconsin Badgers, who enter the new season with a preseason No. 19 ranking under their first full year of guidance from head coach Luke Fickell, who replaced former coach Paul Chryst near the end of a rocky 2022 campaign.
The Badgers closed things out last year with a 7-6 record and a bowl berth, edging Big 12 opponent Oklahoma State in the Guaranteed Rate Bowl to usher in a favorable start for Fickell's new regime. Nobody wants to be the visiting team at Wisconsin's Camp Randall Stadium — but that's exactly the task that'll face MAC opponent Buffalo on September 2, when Wisconsin will host its 2023 season opener on ferociously friendly home turf.
RELATED: How to Watch the Notre Dame Football Game This Week on NBC and Peacock
Does the Big Ten have divisions?
For the 13th and final year, the Big Ten will structure its 2023 in-conference football play as a competition between its two divisions, sending the top finisher in each to an end-of-season championship game to determine an overall winner. There's an East Division and a West Division, and they're split into two groups of 7 teams each — as listed alphabetically below:
East Division
Indiana
Maryland
Michigan
Michigan State
Ohio State
Penn State
Rutgers
West Division
Illinois
Iowa
Minnesota
Nebraska
Northwestern
Purdue
Wisconsin
When is the last time a Big Ten team won the national championship?
Though a decade might seem like a long dearth in the expectation-heavy world of Big Ten football, the conference is seemingly always in the mix to finish close to the tip-top of the college football heap. Both Ohio State and Michigan made the playoff semifinals last year, and each starts the 2023 season with serious ambitions to reach the four-team playoff bracket once again.
Ohio State was the last Big Ten team to take home college football's highest prize, running through a gauntlet of elite competition to earn the very first College Football Playoff (CFP) National Championship Trophy in the inaugural year of the playoff format, which replaced the former Bowl Championship Series (BCS) to determine a clear winner. The Buckeyes accomplished that feat to crown their 2014 season, ending with a 14-1 final record (their lone loss coming at home to Virginia Tech) under then-head coach Urban Meyer.
After hurdling Alabama in a 42-35 playoff semifinal victory in the Sugar Bowl, Meyer and the 2014 Bucks rolled the Oregon Ducks 42-20 in the first-ever CFP championship game, held under the bright lights of AT&T Stadium in Arlington, Texas. If the Buckeyes manage to repeat the feat this season, they'll do it in Texas once again: This year's CFP winner will be crowned on Monday, January 8 of 2024 at NRG Stadium in Houston.
Which teams are joining the Big Ten next year?
A year from now, college football's Power Five conference structure will look very different than it does today — and along with the Big 12 and Southeastern Conference, the Big Ten will play a huge role in making it happen.
Beginning next year, the Big Ten will grow by four schools as it expands from its current 14-member lineup to a chunky roster of 18 conference teams. Departing Pac-12 teams USC, UCLA, Washington, and Oregon all are set to join the Big Ten in time for the start of the 2024 college football season, a major realignment that'll also spell the end of the Big Ten's present-day, East-West divisional arrangement.
Instead of competing along divisional lines next year, all Big Ten teams will vie for a spot in the conference championship game, determined by each team's overall record among the 9 in-conference games they'll play. And while pundits and fans alike are certain to debate the merits of conference realignment well into 2024 and beyond, there's at least one sure silver lining for one of college football's bitterest historic rivalries: Beginning with the 2024 season, it'll technically be possible for Michigan and Ohio State to play each other head-to-head (at last!) in a proper Big Ten conference championship.
How to watch the Big Ten on NBC and Peacock
Check out the full rundown here of all the Big Ten football action that's (so far) been scheduled to air this season on both NBC and Peacock, as NBC gets set to broadcast weekly prime time conference contests as part of the network's Big Ten Saturday Night package.
For something a little more immediate — and just to get the 2023 season started off right, of course! — the Big Ten is packing a one-two kickoff punch on NBC and Peacock right on opening weekend. Peacock will feature reigning Big Ten champs (and preseason No. 2 ranked) Michigan on Saturday, September 2, with the Wolverines playing host in Ann Arbor to the visiting East Carolina Pirates. Kickoff is set for 12 p.m. ET, with the game streaming exclusively here on Peacock.
Later that same day, NBC lights things up with reigning Rose Bowl champs, Penn State, as the preseason No. 7 ranked Nittany Lions host the West Virginia Mountaineers at Beaver Stadium in an evening matchup that kicks off at 7:30 p.m. ET. In addition to airing on NBC, the action from State College also will be simulcast live on Peacock.