NBC Insider Exclusive
Create a free profile to get unlimited access to exclusive show news, updates, and more!
Sign Up For Free to View
How to Watch Big Ten College Football on NBC and Peacock This Fall
NBC is bringing the Big Ten into the prime time spotlight.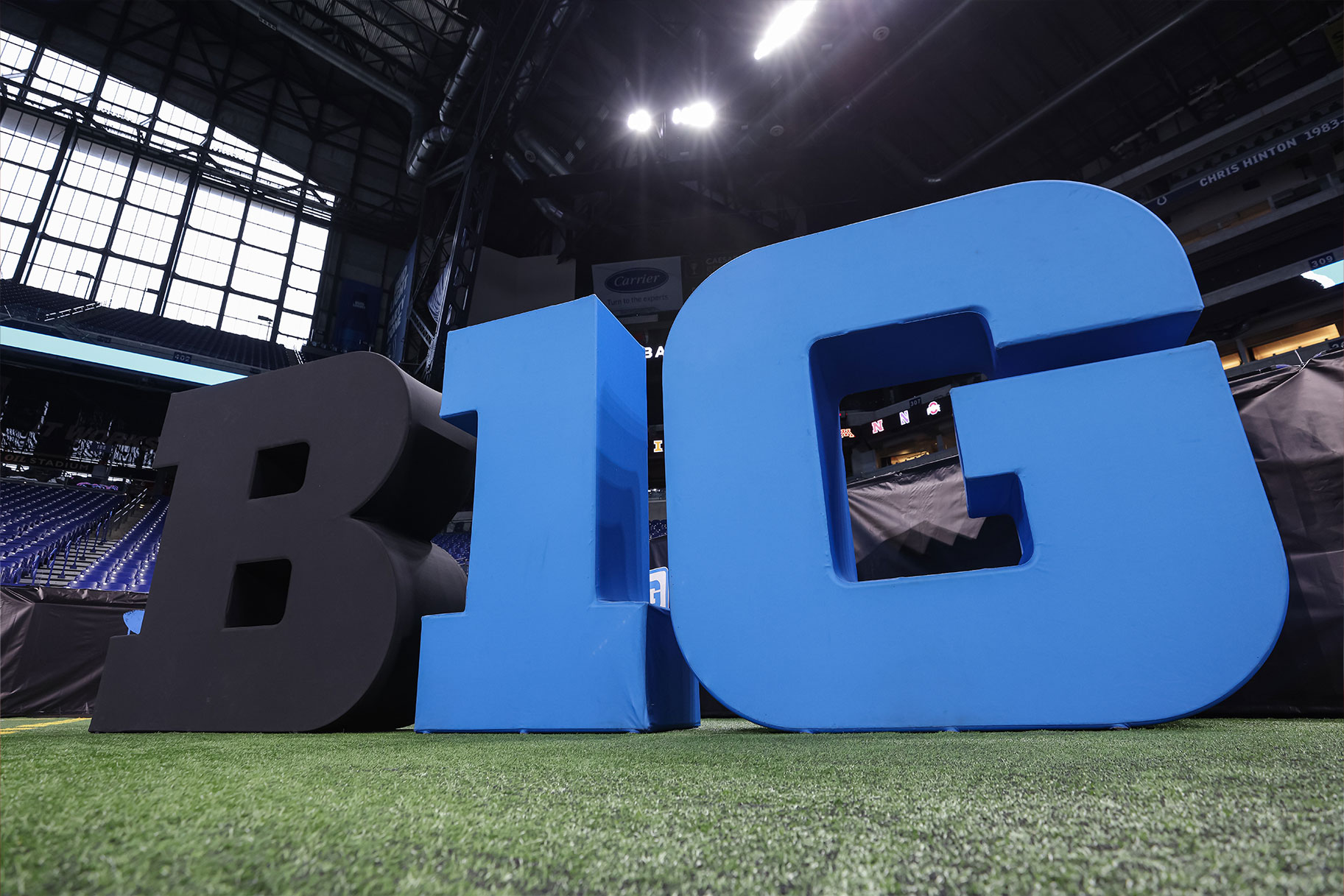 College Football season is rolling along, and with it, the customary TV quest to stay on top of all the action — including where to catch your favorite Big Ten teams. This year, that task will be a whole lot easier, with NBC and Peacock serving up an exclusive roster of weekly Big Ten football that features several teams already ranked in the Associate Press' Top 25 poll.
This year, the Big Ten is getting TV feature billing truly worthy of a power conference, with NBC and Peacock simulcasting a prime time game each week as part of the network's new Big Ten Saturday Night package. And on top of carrying all the same football action as NBC, Peacock also boasts a 2023 football livestreaming lineup of 10 exclusive games — Big Ten action that can't be found anywhere else.
Ready to plan your football Saturdays? Let's dive deeper into the schedule so you don't miss a single kickoff.
RELATED: How to Watch the Notre Dame Football Game This Week on NBC and Peacock
Which Big Ten games are coming to NBC this season?
Most later-season games will be assigned their TV slots as the schedule rolls along, but we already have a solid slate of compelling Big Ten football that stretches deep into the 2023 calendar.
Here's a rundown of what's been announced so far:
Saturday, September 23: Ohio State at Notre Dame
Big college football names get no bigger than this, with the preseason No. 3-ranked Buckeyes taking the fight to the Fighting Irish on preseason No. 13 Notre Dame's home field. Fresh off a thrilling (but heartbreaking) last-minute loss to Georgia in last year's college football playoff semifinals, Ohio State will be looking for an early signature win against a ranked opponent in what's certain to be one of the weekend's most talked-about games.
Saturday, November 11: Ohio State vs. Michigan State (7:30 p.m., NBC and Peacock)
Perennial powerhouse Ohio State have another shot at the playoffs on their minds this season, so the stakes will definitely be high when OSU plays host to the Michigan State Spartans in this key intra-conference contest.
Friday, November 24: Penn State vs. Michigan State (7:30 p.m. ET, NBC and Peacock)
The preseason No. 7-ranked Nittany Lions are technically the visiting team in this in-conference rivalry, as Michigan State serves as the "home" team in a Black Friday event game that'll unfold not at Spartan Stadium — but under the prime time lights of the Detroit Lions' Ford Field.
How to watch Big Ten football on NBC and Peacock
Games airing on NBC can be found on the NBC broadcast network, available via over-the-air antenna or on most major cable and/or TV streaming packages in the local channel options. This season will also find some games streaming exclusively on the Peacock streaming service.
Games airing on NBC will also be streamed on the Peacock streaming service, which is available for 5.99 per month for a Premium plan, which offers new and hit original shows and films, live sports, current NBC and Bravo shows, plus more than 50 always-on channels. A Premium Plus plan is also available for $11.99 per month, which features no ads (with limited exceptions), plus live access to your local NBC channel and the feature to download and watch select titles offline.
Which Big Ten games are streaming exclusively on Peacock?
In addition to streaming all of the above-listed games alongside their NBC broadcasts, Peacock's also got a nice lineup of its own exclusive matchups that span the entire 2023 college football season. Peacock's not dipping a tentative toe in its first year of weekly college football streaming, either: Nine of the bird app's ten exclusive games feature Big Ten teams, and seven of them bring preseason Top-25 competitors to the table.
Here's a quick rundown of what's been scheduled so far, with more Peacock-exclusive games and times to be announced as the season rolls along:
Saturday, September 16: Central Michigan at No. 13 Notre Dame (2:30 p.m. ET, Peacock exclusive)
Saturday, September 16: No. 10 Washington at Michigan State (5 p.m. ET, Peacock exclusive)
Want to stay up to date on all the Big Ten action coming to Peacock this season? Keep it plugged in to Peacock's Big Ten landing page here for all the latest pigskin streaming information.
Who is the broadcasting team and commentators for NBC's Big Ten Saturday Night?
NBC's flagship Big Ten Saturday Night broadcast will feature the ace broadcasting team of Noah Eagle, Todd Blackledge, and Kathryn Tappen as the lead team for Big Ten Saturday Night. The trio bring years of experience in sportscasting. Blackledge has covered college and NFL football for decades; Eagle has worked across multiple sports and most recently provided play-by-play for NFL coverage; and Tappen has most recently worked with NBC sports on Olympics coverage and college and NFL football.
Originally published Aug 23, 2023.