NBC Insider Exclusive
Create a free profile to get unlimited access to exclusive show news, updates, and more!
Sign Up For Free to View
How to Watch Sunday Night Football on NBC and Peacock: Cowboys vs. 49ers
Sunday Night Football is here. Here's how to tune in.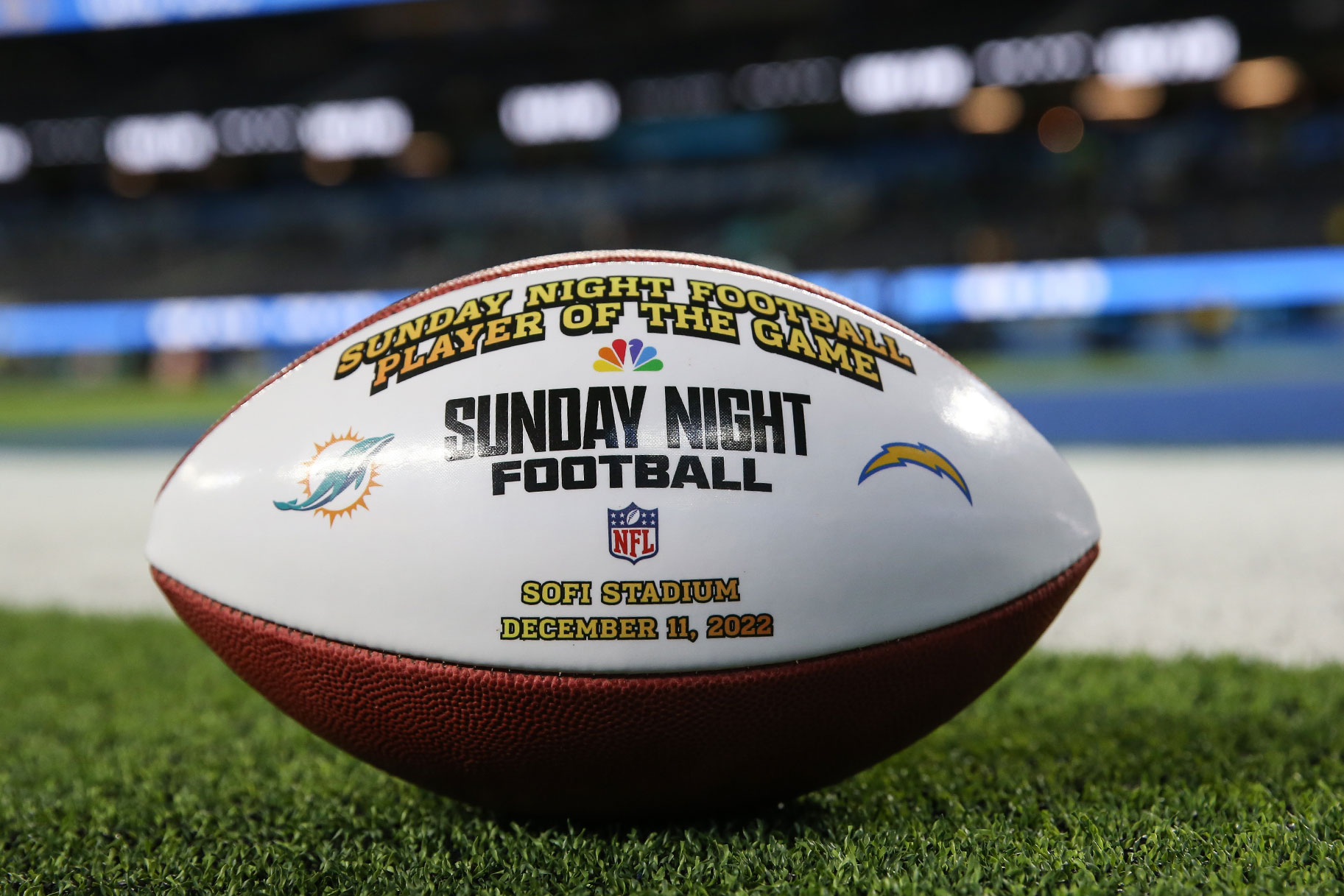 The NFL regular season is in full swing, and that means more of the top-rated primetime show in America, NBC Sports' Sunday Night Football. The acclaimed, must-see series is back for its 18th season of NFL action, and as expected, it's bringing some of the biggest games of the season along for the ride. 
So, if you just can't wait to follow the league's biggest stories, biggest stars, and biggest games every Sunday night this season, we've put together a handy guide to make sure you don't miss a second of the action. 
Which games are coming to Sunday Night Football this season?
This year's SNF lineup has already seen a ton of great action, but we're just getting started. While some games are still subject to the NFL's flex scheduling policy (meaning the matchups could still change), here's a look at the games on SNF in the coming weeks. 
Week 5: Dallas Cowboys vs. San Francisco 49ers - October 8
Two of the best-looking contenders in the NFL face off, with Dak Prescott and the Cowboys aiming to give the 49ers and QB Brock Purdy their first loss of the season.
Beyond that, here's what else we have to look forward to.
Week 5: Dallas Cowboys vs. San Francisco 49ers - October 8
Week 6: New York Giants vs. Buffalo Bills - October 15
Week 7 : Miami Dolphins vs. Philadelphia Eagles - October 22
Week 8: Chicago Bears vs Los Angeles Chargers - October 29
Week 9: Buffalo Bills vs Cincinnati Bengals - November 5
Week 10: New York Jets vs Las Vegas Raiders - November 12
Week 11:Minnesota Vikings vs Denver Broncos - November 19
Thanksgiving: San Francisco 49ers vs Seattle Seahawks - November 23
Week 12: Baltimore Ravens vs Los Angeles Chargers - November 26
Week 13: Kansas City Chiefs vs Green Bay Packers - December 3
Week 14 Philadelphia Eaglesvs Dallas Cowboys - December 10
Week 15: Baltimore Ravens vs Jacksonville Jaguars - December 17
Week 16: Cincinnati Bengals vs Pittsburgh Steelers - December 23
Week 16: (Peacock Exclusive)    Buffalo Bills vs Los Angeles Chargers - December 23
Week 17: Green Bay Packers vs Minnesota Vikings - December 31
Elsewhere within this year's SNF season, there are a few traditions as well as a few new surprises. In addition to 18 weeks of games on Sunday nights, we're also getting the annual Thanksgiving night game courtesy of SNF, as well as two Wild Card playoff games, and one Divisional playoff game.
Plus, Peacock will be the exclusive streaming home to one SNF Week 16 broadcast, as well as a third Wild Card playoff game later in the season. So, if you're not signed up for Peacock just yet, you'll want to get on that so you don't miss what could be crucial moments in the 2023-2024 season. 
How to Watch Sunday Night Football on NBC and Peacock
Sunday Night Football kicks off each week with the pregame show Football Night in America, which airs on NBC beginning at 7 p.m. ET. The games then kick off at 8:20 p.m. ET each week, airing on NBC and simultaneously streaming on Peacock, which you can watch from anywhere. 
NBC is, of course, available through over-the-air antennas and through cable, satellite, and internet TV providers everywhere. If you're not interested in the broadcast version, of course, you can stream every Sunday Night Football game (as well as two exclusive games late in the season) through NBCUniversal's streaming service, Peacock. Peacock is available starting at $5.99 per month for an ad-supported Premium plan, or you can upgrade to a Premium Plus plan, with no ads, for $11.99 per month. Then, when you're done with football, you can check out the hundreds of hours of content on the service, from sitcoms to hit movies and beyond. 
Who sings the Sunday Night Football song "Waiting All Day For Sunday Night"?
The theme song that kicks off NBC's Sunday Night Football is sang by country artist Carrie Underwood. The performance was filmed at The Resorts World Theatre in Las Vegas. Check out the 2023 edition of the song below.
Who's on the broadcasting team for Sunday Night Football?
One of the hallmarks of Sunday Night Football's quality is its top-tier broadcasting team, uniting sports legends with rising stars in the sports broadcasting world for an unforgettable viewing experience. 
So, who's handling the show this year? If you watched SNF last season, you'll be very familiar with the crew. In the booth to call the game is, once again, the dynamic duo of Mike Tirico on play-by-play and Chris Collinsworth on commentary, continuing their run as one of the best teams in football. On the sidelines, reporting for the second season, is Melissa Stark, while former NFL official and Super Bowl referee Terry McAulay also returns as the show's rules analyst. It's a familiar quartet, which means that settling in for Sunday Night Football games will be that much more enjoyable.
Originally published Sep 11, 2023.