NBC Insider Exclusive
Create a free profile to get unlimited access to exclusive show news, updates, and more!
Sign Up For Free to View
Golden Girls Superfan Blake Shelton Sang a Flawless Cover of the Show's Hit Theme Song
The Voice Coach's performance will have you singing "Thank you for being a friend" for the rest of the day.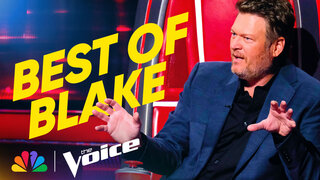 Years after The Golden Girls 1992 series finale, fans of the NBC sitcom still instantly recognize the catchy theme that kickstarts each hilarious episode, "Thank You for Being a Friend." Despite his rustic and rugged demeanor, The Voice's Blake Shelton is among the many proud super fans of the beloved sitcom, which he proved with passion during his 2022 appearance on That's My Jam.
The Season 22 Voice Coaches blew the crowd away with each of their performances on That's My Jam, in part due to Shelton's turn at the "Musical Genre Challenge." Shelton's wheel landed on "Thank You For Being a Friend," to be performed in the classic rock genre. Shelton's voice perfectly catered to the challenge, shocking his fellow Coaches with his incredible rock 'n' roll rendition of the catchy track. Make no mistake: Shelton delivered a set that would make Sophia, Dorothy, Blanche, and Rose proud! 
Watch Shelton rock out while performing The Golden Girls theme, here.
What to know about The Golden Girls theme song, "Thank You for Being a Friend".
"Thank You for Being a Friend" was written and recorded by Andrew Gold for his 1978 album, All This and Heaven Too. A cover was later recorded by Cynthia Fee for The Golden Girls' theme song, leading the track to reverberate through time and become regarded as one of the quintessential themes of 1980s television. Not only has "Thank You for Being a Friend" been the subject of countless covers, but it's also been featured in dozens of series and films as a nod to the beloved NBC sitcom.
Shelton opened up about his longtime love for The Golden Girls in an interview with Jimmy Kimmel, where he confirmed the series is one of his favorite shows. When asked to name which of the iconic women is his favorite, Shelton didn't miss a beat when naming Bea Arthur's hysterical character. 
"Dorothy," Shelton revealed. "For sure. I think her sarcasm on that show is incredible, don't you think?"
Shelton was quick to defend the NBC sitcom after Kimmel explained it was hard to imagine the "Ol' Red" singer sitting at home watching the show. "Well, get over it," Shelton hilariously retorted. "You need to accept it." 
Voice fans may also remember the hilarious Season 16 moment when Coaches Jennifer Hudson and Shelton started breaking out into the precious theme. Rival Coaches Kelly Clarkson and Adam Levine just had to jump in on the fun, further proving The Golden Girls is a classic must-watch for a reason! 
Lyrics to "Thank You for Being a Friend" by Andrew Gold
Thank you for being a friend.
Travel down the road and back again.
Your heart is true, you're a pal and a confidant.
And if you threw a party, invited everyone you knew.
You would see the biggest gift would be from me
and the card attached would say,
Thank you for being a friend.