NBC Insider Exclusive
Create a free profile to get unlimited access to exclusive show news, updates, and more!
Sign Up For Free to View
AGT's Drake Milligan Lit Up The Kelly Clarkson Show With an Elvis-Like Performance
It's no wonder why the AGT finalist was dubbed "the Elvis of country" by Howie Mandel!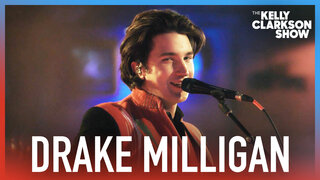 America's Got Talent Season 17 finalist Drake Milligan just performed on The Kelly Clarkson Show. 
On January 30, the country singer hit the talk show's stage and performed his original song "Sounds Like Something I'd Do" from his debut album, Dallas/Forth Worth. During his set, he used a deep register that was highly reminiscent of Elvis Presley–but in his own unique country style.  
The performance immediately kicked off with some upbeat, twangy guitars. "Stayin' too long at the honky tonk, spendin' too much just to tie one on, little less right and a lot more wrong, sounds like somethin' I'd do," he crooned with confidence.
"Callin' in sick when the fish are bitin', takin' those curves with the gravel flyin', keepin' one eye on the next horizon, sounds like somethin' I'd do," he continued.
"I never had a reason, girl, to go 'round lookin' for a fire to walk through, it ain't like me to want somebody, rearrangin' all my want-to's," he sang the song's creative lyrics.
Then, he picked up the tempo for some tongue-twisting action. "I ain't the kind to settle down and let myself get wrapped around somebody's finger, but if I had you, baby, sounds like somethin' I'd do," he sang at impressive speed.
Then, towards the end of the song, he determinedly whipped his guitar back and forth and jumped in the air, giving the performance an epic finale.   
His Elvis vocal style choice during this performance came as no surprise. Milligan is known for playing the music icon in the CMT TV series Sun Records. It's no wonder Judge Howie Mandel called Milligan "the new Elvis of country" during his time on America's Got Talent!
As for his recent endeavors, in December, Milligan was added to CMT's Listen Up Class of 2023, which supports the "brightest stars in country music."
"It was just announced that I'm a part of the #CMTListenUp Class of 2023! I'm in some great company and am so honored. Thank you @CMT!" he excitedly posted about the accomplishment on his official Instagram page.
Watch AGT: All-Stars Mondays at 8/7c on NBC and the next day on Peacock.  And as always, check your local listings for The Kelly Clarkson Show.