NBC Insider Exclusive
Create a free profile to get unlimited access to exclusive show news, updates, and more!
Sign Up For Free to View
You'll Never Guess What Adrian Stoica Will Get His Dog Hurricane If They Win AGT
The Italian dog trainer and his Border Collie lit up the AGT stage.
After an impressive performance during the fifth round of auditions, Adrian Stoica and his dog Hurricane returned to the stage for America's Got Talent 18's very first Live Show.
"After AGT we have a lot of messages from all over the world," the Italian dog trainer said during the show. "Yeah, Hurricane is like a star and she knows. Hurricane is the boss."
Somehow, the pair topped their first routine and were one of just two Acts to make it to the live shows alongside singer Lavender Darcangelo. Read on to learn how they did it.
RELATED: The AGT 18 Live Show Results, Week-By-Week: Who Advanced & Got Eliminated?
Adrian Stoica & Hurricane's Live Show performance
This time around, instead of showing off their morning routine, Stoica attempted to mow the lawn and tend to the garden — a feat that Hurricane made incredibly difficult during their impressive comedic skit. During the Act, set to Smash Mouth's "I'm a Believer", the Border Collie playfully shoved Stoica, ran backwards, and did a series of turns, flips, and jumps.
Following the epic moment, Stoicca told NBC Insider how he and his pup felt during their big AGT moment.
"I was very excited to perform, and it's impossible to be nervous because if you are nervous, the dog become nervous," he said.
The Judges react to Adrian & Hurricane's Act
The entire panel was blown away by the feat. See their reactions below.
Howie Mandel: "I was on my feet then I sat down, then I was on my feet. It just shows you how tough it is. We didn't know whether to stand, we didn't know whether to sit. He's a dog, he gets more cues than we do. That's my favorite dog Act ever on AGT."
Heidi Klum: "I loved it, and this is the type of hurricane that we like here in Hollywood. It is mind blowing to me how you do this routine with him. You don't give him treats, he knows this entire routine. It's mind blowing. Amazing."
Sofia Vergara: "That was perfection. I love the relationship that you two have. I love that he's having so much fun, the humor, the story, I think Hurricane is ready for Vegas.
Simon Cowell: "I think in terms of stepping up from the audition to the Live Show, this is the best Act we've seen tonight. This was live, and that was a tricky routine. She was amazing."
Adrian & Hurricane advance to the Final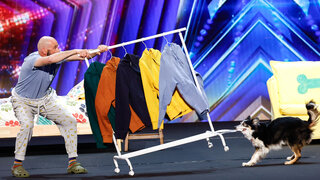 By the end of Wednesday's Live Results Show it was revealed that Stoica and Hurricane, alongside Darcangelo, were the two Acts from the week that had been voted into the Final. These means they are apart of the 11 Acts competing in the September 26 Finale for the $1 million grand prize.
RELATED: Lavender Darcangelo Explains How Her Boyfriend Inspired Her Live Show Performance
So, what would Stoica do with the money? His answer may surprise some, but for anyone familiar with the high energy of a herding breed like the Border Collie, it makes complete sense.
"Probably, I will buy some sheep for Hurricane." Fair enough!
With reporting by Becca van Sambeck.