NBC Insider Exclusive
Create a free profile to get unlimited access to exclusive show news, updates, and more!
Sign Up For Free to View
When Does Law & Order: Organized Crime Season 3 Return With New Episodes?
Here's when Stabler and the Task Force will return after the holidays, and how to catch up on Season 3.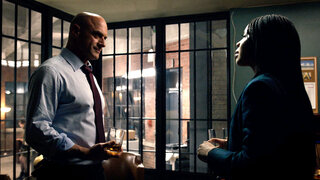 The midseason finale of Law & Order: Organized Crime was a wild watch and the next episode couldn't come fast enough.
The December 8 episode, titled "Last Christmas," was a holiday episode with a distinct lack of cheer as the OC Unit faced the looming threat of their entire Task Force getting shut down after Sgt. Ayanna Bell (Danielle Moné Truitt) was approached with a promotion. That means that all these cases the Task Force has yet to close throughout the season will be tossed to the side and reassigned. OC viewers waited to see whether or not Elliot Stabler (Christopher Meloni) would step up to the plate and lead the force, but luckily, that wasn't necessary. Just as the detectives began to disband and explore other career options, Bell chose to stay with the OC Task Force, meaning they can all move forward with business as usual. Phew! 
If you're eager for new episodes of Law & Order: Organized Crime, we have an important update about Season 3. Law & Order: OC is taking a brief holiday hiatus in releasing new episodes ahead of 2023. To learn when and how to watch the next new episode of Law & Order: Organized, read on for more details.
When Does Law & Order: Organized Crime Season 3 Return?
Law & Order: Organized Crime will continue with new episodes on Thursday, January 5, 2023 at 10/9c and next day on Peacock for the return on NBC's Law & Order Thursdays. While fans may be dying to learn more about Stabler's mysterious love life, they'll need to wait. NBC will not air new episodes of Organized Crime on December 15th, 22nd, or 29th, but that three-week hiatus makes for the perfect excuse for an Organized Crime marathon on Peacock.
How Do I Watch Law & Order: Organized Crime?
To find out what happens next in this thrilling third season, watch Law & Order: Organized Crime on NBC Thursdays at 10/9c and the next day on Peacock.