NBC Insider Exclusive
Create a free profile to get unlimited access to exclusive show news, updates, and more!
Sign Up For Free to View
Jon Huertas Explains Rebecca and Jack's Emotional Train Reunion
And how Miguel feels about it.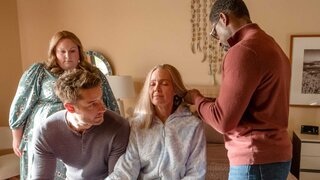 Though This Is Us fans have been bracing themselves since Season 4's ominous flash-forward, nothing could quite prepare them for the show's heartbreaking penultimate episode. 
In Season 6, Episode 17, titled "The Train," we see the entire Pearson family gather at Kevin's (Justin Hartley) cabin. They've been warned that Rebecca (Mandy Moore) is just moments away from succumbing to her years-long battle with Alzheimer's, and it's time to say goodbye. As we see them all grapple with her life coming to an end, we watch Rebecca make her journey to the afterlife — which, for her, is a train.
As a surprise for viewers, it's Randall's (Sterling K. Brown) biological father William (Ron Cephas Jones) who guides her. Along the way, she greets a few familiar faces. One standout is Miguel (Jon Huertas), who we saw die in Season 6, Episode 15. We only see him for a brief moment, but he tells her, "I still can't get over after all these years, it's still you...My favorite person."
Rebecca then moves on to the last train car, which we learn is where she's finally reunited with Jack (Milo Ventimiglia). NBC Insider caught up with Huertas for his take on the episode's final scenes.
"With Rebecca going through the journey that she's going through this episode, it's that thing when you die, sometimes your life flashes in front of your eyes." he tells us. "Miguel was a huge part of her life, and for me, I feel like it's that moment where he is there to send her off to Jack and say, 'It's OK to walk through that door and find this man that we both loved.' And just to remind her of how great of a mother she was, a wife she was, so that she goes in there full and with a smile."
As for Rebecca's final resting place being by Jack's side (instead of Miguel), Huertas explains that it's all meant to be.
"It made sense to me that she was with Jack because that was almost, like, her first love," Huertas says. "And Miguel got to be there for this end of life. He was there when she started her drastic decline and Jack didn't get that. Jack didn't get to grow old with her, and that's what you want when you fall in love with someone. You think about that and say, 'I wanna fall in love with this person and grow old with them,' and Jack didn't get that, he was robbed of that."
He continued, "So I thought Miguel has been established as this very supportive husband, this very supportive stepdad. Really this guy that for Rebecca, whatever she needed, he gave her. Space if she needed it, if she needed him. [Now] she needs Jack. That's who he is and that's who he's 'gonna give her. What she needs. And that's Jack through that last door."
Where to watch This Is Us 
Watch every episode of This Is Us on NBC.com. Also: Relive some of the show's best moments here on NBC's This Is Us: The Final Chapter digital experience.