NBC Insider Exclusive
Create a free profile to get unlimited access to exclusive show news, updates, and more!
Sign Up For Free to View
The Voice's Thunderstorm Artis Has an Exciting, Romantic Career Update
The Season 18 runner-up's new song certainly has love on the brain!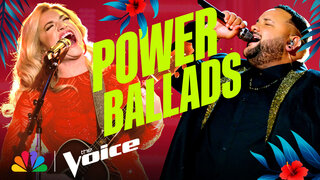 The Voice's Thunderstorm Artis has released new music, and fans will be happy it's come before Valentine's Day. The track is called "Surprise," and the inspiration behind it will make you swoon. 
You'll remember that Artis was a fan favorite during Season 18 of The Voice, charming crowds and performing his heart out as a member of Team Legend. John Legend was quick to turn his red chair after hearing Artis' rendition of "Blackbird" during the Blind Auditions.
Artis was a front-runner for the entirety of his season and came in second place after Todd Tilghman. He continues to make music to this day, and his recent release, "Surprise," is about falling in love with his wife, whom he met while blind auditioning for The Voice.
"My wife, Faith, first came into my life right when I had just done my Blind Audition for The Voice. We met randomly at a concert. At the time, I didn't think that true love really existed," Artis reveals in a recent interview with People. "And to my surprise, she came into my life and tore down a lot of these walls." After instantly clicking during Artis' Voice tenure, the smitten couple got married four months later.
"Surprise" is about being pleasantly surprised when you fall in love. "I knew I wanted to write a song about my wife. When you listen to the song, I just want people to be able to picture real love and how it enters your life..." Artis told People. "I've always written from a place of pain and turmoil and deep, thought-provoking things. But with 'Surprise,' I wanted to go the opposite way. It was the first time that I was able to write about something that I'm super happy about."
Like his former Voice Coach, John Legend, Artis and Faith have recently welcomed a baby into the family, which has only increased the couple's happiness. Artis said to People, "My wife taught me to love, and then having a kid taught me to love in ways that I didn't know that I wasn't. I've watched [parenthood] bring me and my wife closer. When you look into a child's eyes, you see everything."
"When we look at ourselves in a mirror, we see mostly all our flaws and shortcomings. But when someone truly loves you, they see the beauty," Artis added, "They see all the things that we don't really see when we look at ourselves."
The Voice Season 23 premieres Monday, March 6 at 8/7c on NBC and the next day on Peacock