NBC Insider Exclusive
Create a free profile to get unlimited access to exclusive show news, updates, and more!
Sign Up For Free to View
Surprise! Omar Jose Cardona Welcomed a Son While on The Voice
He revealed the news to fans just one day after the Live Finale.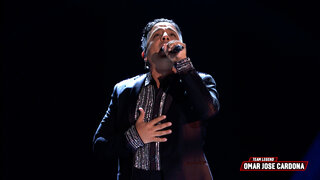 From his epic Frozen-themed Battle Round with Lana Love to his Imagine Dragons cover during Knockouts, Omar Jose Cardona was destined to go far on  The Voice.
His showmanship and powerful vocals during Season 22 carried him all the way through to the Live Shows. And despite a close call the week before the Live Finale—landing in the Bottom 4—the 33-year-old's Last-Chance Performance earned him the Instant Save.
Cardona ended up in the Top 5 as one of the season's favorite competitors and the last remaining member of #TeamLegend. So naturally, we can't help but wonder what he's up to now. A hint? He's recently welcomed a new bundle of joy.
What is Omar Jose Cardona doing now after The Voice Season 22?
After earning fourth place on The Voice, Cardona posted about his time on the show on Instagram and also offered congratulations to the winner.
"Curtain Call! Wow! What a difference a year can make," he said. "Im so proud of to have been a part of SZN22. The community you all have built with me throughout this process has changed my life forever! From the bottom of my heart THANK YOU! @bryceleatherwood MY BROTHER CONGRATULATIONS KING! We will catch us a victory royale soon! Love you brother! 🤔 Now what else I can do? 😏."
Just one day after the season came to a close, the Orlando native also surprised fans with some exciting news. It turned out that he and his girlfriend had their first child, a son, just one week before he competed on the Season 22 Live Finale. Cardona shared a photo of his growing family on his Instagram.
"December 5th was a day Ill never forget. My son was born on the day I dedicated a song to his mom on national television," he said. "@xodanimontalvo THANK YOU FOR TAKING CARE OF OUR BOY WHILE I WAS FINISHING OUT THE SHOW. You encourage me to stay in LA to focus on the show. Talk about support but also being so brave! I love you so much.
He continued, "World… Meet Luca Leandros Cardona 12/5/22❤️ Our little LLC. Luca I'll never let you down! For life! All Love."
While adjusting to life as a father, Cardona is still finding time for music. In late December, he posted a video of him singing Alexander Stewart's "Blame's On Me." And on December 28, he shared a clip of his rehearsals with the Epic Party Band in preparation for their 2023 New Year's Eve performance at Disney Springs.
It's safe to say that Cardona isn't slowing down any time soon.