NBC Insider Exclusive
Create a free profile to get unlimited access to exclusive show news, updates, and more!
Sign Up For Free to View
Why This Frozen-Inspired Battle Was Declared a 'Top 2' Moment From the Season
All four Coaches gave it a standing ovation.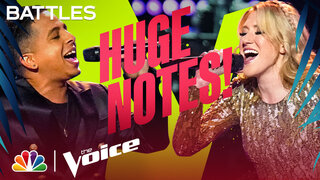 For the Battle between Omar Jose Cardona and Lana Love on The Voice, Coach John Legend made an interesting choice: "Into the Unknown" from the movie Frozen 2. However, he specifically wanted his Contestants to go off a rock version of the track by Panic! At the Disco. It was a tall order—but neither Cardona nor Love disappointed. In fact, by the end of their Battle, all four Coaches were standing and applauding. 
"I think I speak for everybody here when I say: What the hell!" Blake Shelton said, kicking off a stream of praise. "How is there enough time on this show to even rehearse? [Your performance] would be like after an eight-month run on Broadway." 
"You became Elsa," Camila Cabello told Love before adding, "...That was probably my top two favorite moments of this season. I just feel so inspired after that. It just felt so pro." 
Gwen Stefani was equally as complimentary, saying, "I felt like I was shot up in a rocket and went around the moon and then I'm like, 'Wait, can we just rewind?' Why aren't you just on Broadway singing every single night? It was such a great pairing, and it's sad because somebody has to go home. But you guys should just keep doing what you do, which is sing songs and use the gift that God gave you." 
Ultimately, it was Lana Love who went home. Legend declared that Omar Jose Cardona won the Battle, advancing him to the Knockouts. 
Watch The Voice on NBC Mondays and Tuesdays at 8/7c and next day on Peacock.