NBC Insider Exclusive
Create a free profile to get unlimited access to exclusive show news, updates, and more!
Sign Up For Free to View
Why John Legend Saved the 'Special' Marilynds After That 'Really Hard' Battle
The sister duo is still in the game!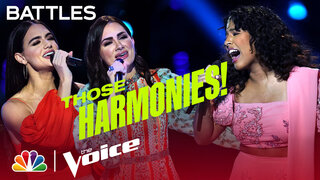 The Marilynds and Parijita Bastola went head-to-head during the Voice Battles on Tuesday, October 18. They sang  "How Deep Is Your Love" by the Bee Gees, and by the end, it was clear their Coach, John Legend, was dumbfounded about what to do. (Camila Cabello even admitted he had a "really hard" decision to make.) 
Because both Acts were just so good. The Marilynds, a sister duo, proved yet again how beautiful their voices blend together. Meanwhile, 17-year-old Bastola stunned with the command and power of her voice. (Seriously, how is she only a teenager? Legend's Battle Advisor, Jazmine Sullivan, rightfully pointed out that if her voice is this good now, imagine how it will sound in three, five, or 10 years. We aren't ready.) 
Legend ended up picking Bastola as the winner, saying before his decision, "There's just something where you feel like you're connected to who you are. And it's just amazing that that level of self-awareness, self-knowledge, self-possession is coming from someone so young. Your voice is just phenomenal. It feels so inviting." 
That being said, Legend did decide to use his only Save on The Marilynds, keeping them in the competition. They were, of course, grateful for that, and Legend said about the duo, "The Marilynds deserve to be Saved. I think they have something special to offer this competition. They're a really compelling group, and I think their lane of country-pop is unique on my team. I think they're going to do something really special as they go forward." 
Watch The Voice on NBC Mondays and Tuesdays at 8/7c and next day on Peacock.