NBC Insider Exclusive
Create a free profile to get unlimited access to exclusive show news, updates, and more!
Sign Up For Free to View
Why Parijita Bastola's Four-Chair Turn Audition Got All the Coaches Emotional
You could tell Gwen and Camila were near-tears.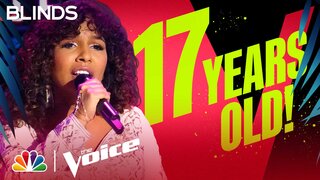 It was clear from the jump that Parijita Bastola's Blind Audition on The Voice Season 22, Episode 4 was special. Performing Labrinth's "Jealous," the 17-year-old Nepalese-American from Severna Park, MD earned an immediate turn from John Legend, followed shortly after by Gwen Stefani and Camila Cabello. Blake Shelton was the last to turn, but you could tell even he was moved by the performance. Legend and Cabello stood up. Stefani was near tears (as was Cabello), and Shelton had a warm, reverent expression on his face the entire time. They all knew Bastola was unique and deserved a Four-Chair Turn. 
And they told her as much during their deliberations. "That was probably my favorite song that anybody has sung so far and the way you did it was masterful," Cabello said. "I had goosebumps [throughout] my whole body." 
Stefani told Bastola, "You're so in touch with your heart," while Legend added, "The best Artists are able to bring the music of their culture and of their roots into the wider global landscape of music. I think your voice is that kind of transcendent voice." 
Lastly, Shelton said, "I know good and well I'm in over my head here, but it doesn't mean I'm also not as big of a fan of yours as everyone else here. There is nobody else like you on my team." 
Ultimately, Bastola chose Team Legend, and we can't wait to see where the competition takes her. 
Watch The Voice on NBC Mondays and Tuesdays at 8/7c and next day on Peacock.