NBC Insider Exclusive
Create a free profile to get unlimited access to exclusive show news, updates, and more!
Sign Up For Free to View
Gwen Stefani and Blake Shelton Are So Cute in New Behind-the-Scenes Clip of The Voice
Look at them goofing off!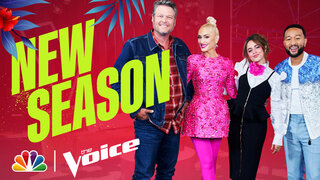 New behind-the-scenes footage from The Voice Season 22 that dropped in August proves Coaches Camila Cabello, Gwen Stefani, Blake Shelton, and John Legend have amazing chemistry. Of course, this didn't need proving. The foursome is beyond charismatic and talented, and don't forget: Two people out of this foursome are an actually married couple. 
We're talking, of course, about Stefani and Shelton, who tied the knot in summer 2021. You can see their cuteness in the clip, below, as they pose together for a Voice promo shoot. Look at the way they're goofing off! Our hearts can't take it! 
The Voice Season 22 premieres Monday, September 19 at 8/7c on NBC. In an interview with NBC Insider, Stefani opened up about returning to the show as a Coach married to Shelton. 
"Stepping back on the set of The Voice this time was very surreal," she said. "Being married, it brought back so many memories of all the different seasons that we've been on The Voice together, all the different phases of our friendship, of our relationship."
She said of working with Shelton this time around, "It was just kinda easy and flawless and normal. It just feels like we're anywhere else we'd be together. And I have a lot of fun with him here."
On the same subject, Shelton told NBC Insider, "The best part about working with my wife is that I never have to be apart from her. And she also happens to be one of the least competitive people I know. Being on a competition show with your wife, who is also not competitive, is the greatest situation you can be in."