NBC Insider Exclusive
Create a free profile to get unlimited access to exclusive show news, updates, and more!
Sign Up For Free to View
NOIVAS and Blake Shelton Sang a Classic Blake Song Together on The Voice Finale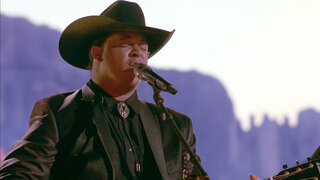 The Voice Season 23 finale on May 23 featured some incredible performances from the Top 5 Artists and their respective Coaches. One such number came from NOIVAS and Blake Shelton, who did a fabulous rendition of Shelton's cover of Michael Buble's "Home." 
Both strumming on guitars with a scenic Western backdrop behind them, the performance was the perfect tribute to Shelton, who is leaving The Voice as a Coach after 23 seasons. 
All about NOIVAS
The Voice fans were first introduced to the talented NOIVAS when he auditioned with a chilling rendition of "A Change Is Gonna Come" by Sam Cooke while playing his acoustic guitar. Kelly Clarkson hit her button almost immediately after the singer opened his mouth and pulled off some impressive riffs. Chance the Rapper turned around shortly after, blocking Shelton just in time. Niall Horan quickly followed suit, giving NOIVAS a rare Four-Chair turn.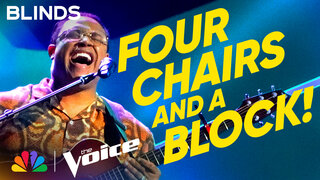 "You are an incomparable talent. I would love to give you the platform to show yourself to the world. I think you're a voice of this generation that deserves to be heard," Chance said during feedback.  
Chance and Clarkson argued over NOIVAS, both trying to convince him to pick their team. Ultimately, NOIVAS ended up going with Chance. 
When it was time for the Battle Rounds, NOIVAS ended up going against Artist Ray Uriel, and the two sang the tune "Jealous Guy." Chance ended up picking Uriel as the winner of the round, meaning it looked like NOIVAS was about to go home. However, Shelton was so impressed by NOIVAS' vocals during the performance that he swept in and put him on his team at the last minute. 
"I didn't steal him, I've just brought him back home," Shelton said. "If Chance hadn't used that stupid Block earlier this would have never happened. It doesn't matter now, man. You're home, NOIVAS."
During NOIVAS' subsequent Knockout performance, he sang an excellent version of the the jazz standard "I Put a Spell on You," which was a clever and subtle nod to Chance the Rapper losing him as a team member.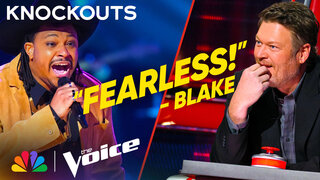 For the Playoffs, NOIVAS brought the house down with a thumping, rocking version of "Come Together" by The Beatles, where he growled the notes with passion. 
"Your singing was incredible, but the way you perform, it's a little bit wild, and it just works for you, dude. Great job," Shelton said before NOIVAS advanced to the next round.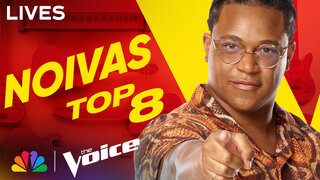 For his Semi-Final Top 8 Performance, NOIVAS chose to cover Adele's "Skyfall" in a manner that will give you chills, unsurprisingly landing him a place in the Top 5.