NBC Insider Exclusive
Create a free profile to get unlimited access to exclusive show news, updates, and more!
Sign Up For Free to View
NOIVAS Totally Used His Knockouts Performance to Get Back at Chance the Rapper
NOIVAS, a Texas dad of two, playfully sent a message to his former Coach Chance the Rapper Monday night with a darkly dramatic performance of "I Put a Spell on You."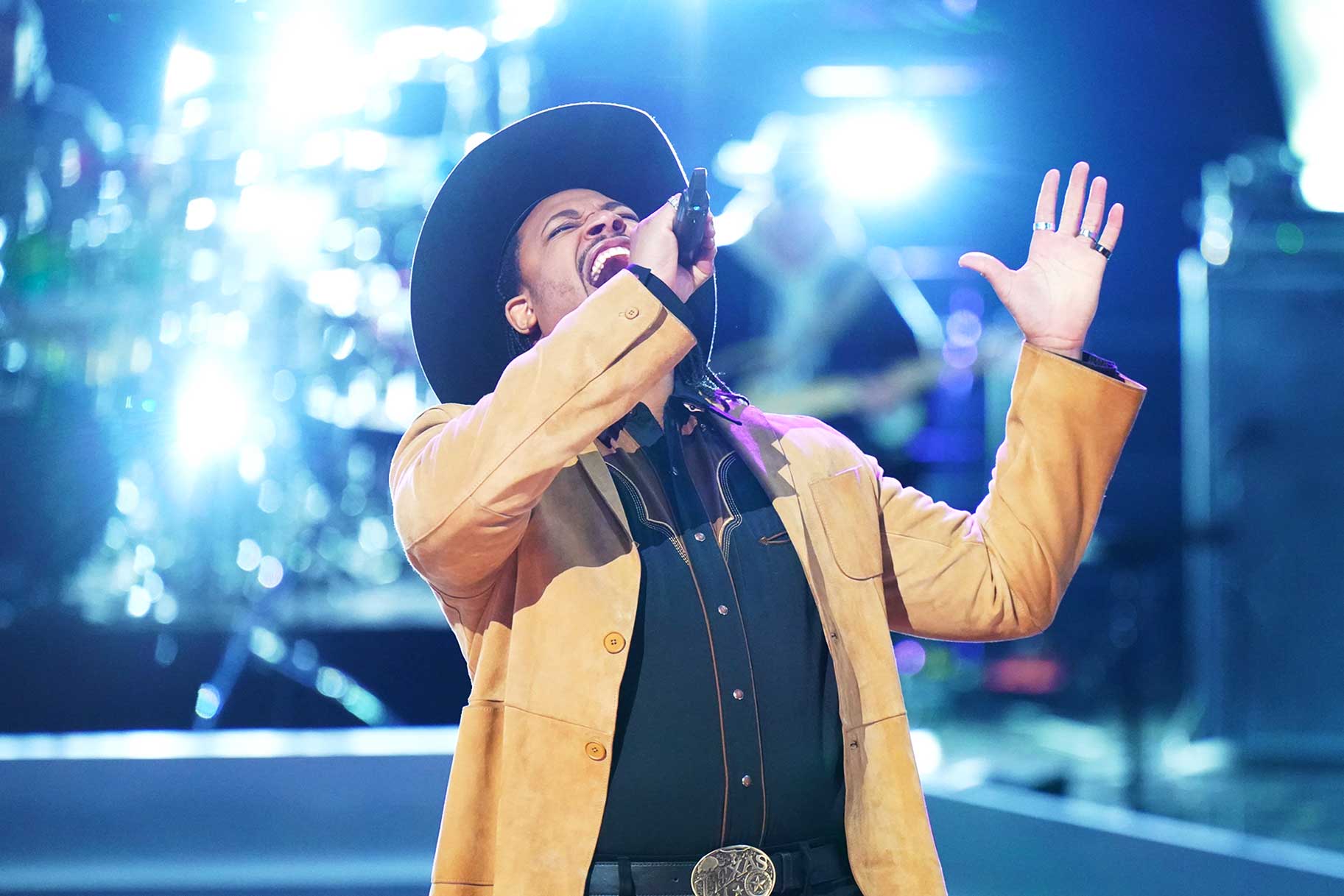 NOIVAS appeared to deliver a message to his former Coach Chance the Rapper during his knockout performance Monday on The Voice — and it may have been just a little unnerving. 
"He was sending shots at me through his song," Chance told his fellow Coaches, following the Texan's dramatic performance of "I Put a Spell on You" that nearly brought down the house.
The pair's relationship has been, well, a little bit complicated during NOIVAS' run on Season 23 of the singing competition, beginning with NOVIAS' performance in the Blind Auditions.
Chance secured the father of two by blocking veteran Coach Blake Shelton then hilariously replacing the other Coaches' names that appeared on the floor in front of their chairs with his own to sweeten his pitch. 
"Make the right choice, my boy! I'm gonna give you all the space. I want you to win this show and I want you on Team Chance, man," Chance pleaded, calling him "a voice of this generation that needs to be heard." 
Although NOIVAS admitted he "was going to choose" Shelton, since the country legend was cunningly taken out of contention, he opted for Team Chance and was eager to show his new Coach what he could do. 
Chance paired NOIVAS against R&B-infused Artist Ray Uriel in the Battles and the two performed an epic version of "Jealous Guy," originally made famous by John Lennon. While Chance commended NOIVAS for his "passion and control on stage" he ultimately selected Uriel as the winner, paving the path for Shelton to swoop in and steal NOIVAS. 
"I didn't steal him, I've just brought him back home," a vindicated Shelton said at the time. "If Chance hadn't used that stupid block earlier this would have never happened. It doesn't matter now, man, you're home, NOIVAS."
Now on Team Blake, NOIVAS captured the crowd Monday as he slowly built up the drama in the iconic song "I Put a Spell on You," pulling the mic stand behind him around the stage as the crowd erupted. By the time NOIVAS delivered a final high-note, dropped to his knees and then ominously sung "you're mine,"  Coaches Kelly Clarkson, Chance, and Niall Horan were all on their feet giving him a standing ovation.
At the song's conclusion, Chance admitted he couldn't help but feel that NOIVAS' powerful performance may have been, at least partially, directed at him. 
With lyrics like "I put a spell on you" and "I don't care if you don't want me, I'm yours right now,"  the fun revenge-filled number struck a chord with Chance, who playfully chided NOIVAS. 
"I felt the lyrics coming toward me," he said, as NOIVAS laughed. "It was teetering in the diss record category." 
Yet even with the slightly intimidating song choice, Chance still had love for his former team member.
"I just wanted to let you know, like, I'm a fan," he said. "The icing on the cake is that you will do something like swing the mic stand around and end the song on your knees which I thought was so fire."
He also told Shelton he would "probably lean towards NOIVAS" as the winner of the knockout round that teamed NOIVAS against Tasha Jessen, who performed a soulful rendition of "Take Me to Church."
It wasn't an easy choice for Shelton though, who admitted being conflicted about which singer to move forward in the competition to the playoffs. 
"Just flip a coin here, it was that impressive on both ends," he said. "NOIVAS, I thought there was a chance that you took the word knockouts literally. You got a little bit wild and it scared me and I like that. Your talent is shocking and fearless." 
But he also commended Jessen on her moving performance.
RELATED: Blake Shelton Sounds So Rock-and-Roll Covering Elvis' 'Blue Suede Shoes'
"Tasha I'm never surprised by you because you got that out of the way when you chose me as your Coach to begin with. Nobody was more surprised than I was that you picked me,"  Shelton told her. "And so, it's great to have, you know, artists that come and audition for this show even after all these years that you wonder how in the hell has this person not already made it? Like, it makes no sense." 
While Shelton was visibly conflicted, calling it his "toughest decision that I've had to make so far on this season," he ultimately chose NOIVAS as the winner. 
"There was no way for me to not pick NOIVAS," he said later. "The guy can sing circles around anybody, but now I'm realizing he can also outperform anybody on the show. I mean, I really think this guy has a shot at winning this thing."
After giving Shelton a hug and shaking hands with Horan, NOIVAS delivered a final parting message to Chance, pointing at him and quipping "Hey, you caught that" before walking off stage. 
"NOIVAS is so fun," Clarkson remarked.
Horan called the Battle "intense" before Chance weighed in on the parting message.
"When he was just walking out though, he was just like, 'I'm glad you caught that,'" he said. "He was sending shots at me through his song."
Although Jessen didn't win the Knockoff Round, her run on The Voice isn't over either. Just as she was leaving the stage, Horan used his only steal to get her onto his team. 
To see how both compete in the Playoffs, tune in to The Voice Mondays at 8/7c on NBC or available on Peacock the following day.