NBC Insider Exclusive
Create a free profile to get unlimited access to exclusive show news, updates, and more!
Sign Up For Free to View
All the Guest Stars Who Have Appeared on NBC's New Night Court
A lineup of some seriously talented actors, comedians, and more!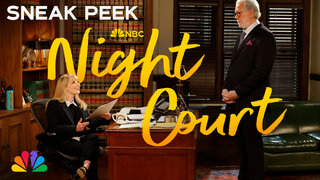 The new Night Court features a star-studded cast, including the ultra-talented Melissa Rauch as Judge Abby Stone and John Larroquette reprising his role as lawyer Dan Fielding. Along with this main cast, there's an exciting lineup of guest stars appearing, as well. 
Here's who we saw during the first season of Night Court: 
Night Court Season 1 guest stars
Lyric Lewis
Lewis plays a wedding planner named Cynthia Davies who's infatuated by Dan's taste in decor and is determined to help him plan his next wedding. 
Kurt Fuller
In Episode 8, Fuller plays District Attorney Jeff Dewitt, who represents a powerbroker in court. A former colleague of Dan's, Abby tries to help reform Dewitt's overly-harsh prosecution charges and his office's tendency to focus on conviction rates. However, her plan backfires as Dewitt plans to use Abby's information to pin the issues of the city on her. He then has a change of heart after Abby threatens to expose a secret of his unless he takes her research seriously and implements a positive change in the system. 
Melissa Villasenior
You most likely know Melissa Villasenior for her time on Saturday Night Live. She rose to fame when her America's Got Talent Audition (where she performed a bunch of hilariously accurate vocal impressions) went viral.
Wendie Malick is best known for her role as Victoria Chase from Hot in Cleveland. In Episode 4 of Night Court, Malick plays a woman named Julianne, who Dan goes on a date with. Later, she reveals that she merely expressed interest in him in order to get revenge on him for prosecuting her for a case years ago. 
Pete Holmes is an actor and comedian who's known for his talk show The Pete Holmes Show. As for his character on Night Court, he plays Abby's fiancé, Rand. He's unseen for the first few episode  because he and Abby are in a long distance relationship.
We see Rand for the first time in Episode 10, when he comes to the city to help Abby train for a marathon.
Johnny Weir is a former Olympic figure skater and current sports commentator. He plays himself in Episode 7, as he comes to the night court to witness a case. Abby is a huge figure skating fan and would love to meet him, yet her train is delayed to the court. 
Tara Lipinski is an Olympic gold-medal winning figure skater. She also does sports and fashion commentary and has a few acting roles under her belt. She appears alongside Johnny Weir in Episode 7 as a witness to a case, reprising their dynamic chemistry. 
Stephnie Weir is known for her time on Mad TV. On Night Court, she plays a podcast Host named Remecca who attempts to expose dirty secrets about Dan and Abby before her shady past gets leaked.
Faith Ford is widely recognized for her role as Corky Sherwood on the sitcom Murphy Brown. She plays Abby's mom, Gina, on Night Court, and during her episode, it's revealed that Gina has kept the way that she truly met Abby's father a secret after all these years. 
Marsha Warfield was best known as the third bailiff, Roz Russell, during the OG Night Court. Introduced in Season 4, she was known for her no-nonsense personality. 
In a surprise appearance, Marsha Warfield made a return in the new Night Court universe to reprise her role as Roz. In her last-minute cameo during the Season 1 finale, she found herself in jail after a bachelorette party went haywire in Louisiana. Better yet, Dan Fielding just happened to be her Judge.
How to watch the new Night Court
Watch Night Court on NBC and Peacock. The Season 1 finale airs May 9, 2023.