NBC Insider Exclusive
Create a free profile to get unlimited access to exclusive show news, updates, and more!
Sign Up For Free to View
Abby's Mom Reveals the Truth About How She Met Harry on Night Court
The cat's out of the bag! Watch Night Court on Tuesdays at 8/7c on NBC.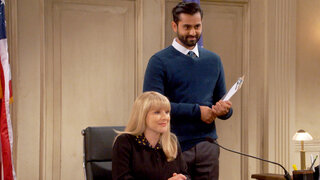 In the new Night Court, Abby's (Melissa Rauch) personal life is still somewhat of a mystery. Although we know she was close to her late father Harry Stone (Harry Anderson), little has been said about her mother. Until now.
Abby's mom, Gina (played by Faith Ford), is a major character in Season 1, Episode 8. And in this episode, she reveals some shocking secrets about the Stone family. But how exactly did Gina and Harry end up together?
Gina comes to surprise Abby in court to check in on her during her new job. When Abby introduces Gina to Dan Fielding (John Larroquette), he says she looks familiar, to which Gina quickly responds that they have never met. She then pulls him into the hallway to have a stern talk with him, and Dan suddenly recognizes her from somewhere. "You married Harry?!" he exclaims in awe.
"Zip it! My daughter doesn't know we know each other. And I want to keep it that way," Gina retorted.
"Wait, so she doesn't know how you and Harry actually…" Dan began before Gina shushed him, insisting that he keep his mouth shut so that she can protect her daughter from the truth.
But what secret were they attempting to hide from Abby? No, Dan and Gina did not have a romantic past together, (despite Gurgs's incorrect deduction), but they did meet some time in the past, with a connection to Harry.
The story of how Gina and Harry actually met didn't exactly align with what Gina's been telling Abby all these years. According to Abby, "It's a fairytale. My dad was upstate for the Mel Torme concert and decided to [go to the] harvest festival. He and my mom ended up in the same ferris wheel car, and by the end of the ride, they fell in love. Later that night he proposed, saying, 'You're only one yes away from the rest of your life.'" 
"Oh! Sounds too good to be true!" Dan responded with a snarky look on his face.
"Well, that's exactly how it happened," Gina responded defensively.
Later, Neil and Olivia decided to dig up some dirt on the seemingly goody-two-shoes Gina. Using the state database, they find that Gina was convicted of running an illegal underground gambling ring and was prosecuted by Dan years ago. And the Judge who handled the case? Harry Stone.
After a push from Dan, Gina then decides to reveal the truth to Abby personally. "Your father wanted you to know. But he respected that it was my story to tell," she said.
"It started with a little poker game at the Jiffy Lube where my boyfriend worked. We were riding high on cash and exhaust fumes. But things got out of control, and I ended up here. Your dad could've thrown the book at me, but he saw me the way I wanted to see myself," Gina continued.
"After I served my time, I reached out. Turns out, I was on his mind, too. He wasn't sure about the whole Judge dating the ex-con thing, but I said, 'You're only one yes away from the rest of your life.' We wanted a fresh start, so we got married and moved upstate," she explained. And the rest is history.
Watch Night Court Tuesdays at 8/7c on NBC and next day on Peacock.