NBC Insider Exclusive
Create a free profile to get unlimited access to exclusive show news, updates, and more!
Sign Up For Free to View
Dan Fielding Revealed Something Shady About His Past on the New Night Court
It was a "different time," according to Dan. Watch the new Night Court on NBC.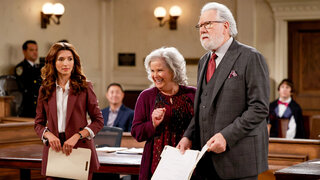 On the new Night Court, it's no secret that Dan Fielding (John Larroquette) isn't exactly always an angel. Although he's known to be arrogant and cynical, he's starting to slowly change his ways and accept people into his life. However, in Season 1, Episode 9, we learn something new about his sketchy days before he became a public defender.
When a woman named Remecca (Stephnie Weir) comes to the court as a witness in a robbery, Judge Abby Stone (Melissa Rauch) immediately recognizes her. Remecca is a Host of a podcast Abby is a fan of called The Social Archeologist.
"This one focuses on everyday people and digs deep into what makes them inspirational," Abby explains to Dan.  
Abby then convinces Remecca to do an episode on the court to highlight its "empathetic approach to justice." Remecca, interested in Dan's journey from prosecutor to public defender, chooses to highlight him specifically. He's fond of the idea of talking about himself for two hours in front of an audience of millions, so he jumps on the opportunity.
"Is Dan Fielding's rise from humble beginnings to the top or the bottom of the judicial system one of our generation's most remarkable feats? It is not for me to say, but it is my pleasure to repeat," Dan boasts to Remecca while they're recording.
He went on to talk about how one of his greatest accomplishments was coming in as a runner-up when he ran for Congress in the '80s. However, he then accidentally lets something slip in a casual statement. "I seriously believe I would've won had I handed out 20s instead of 10s," he says.
Remecca, eager to investigate a hard-hitting story of corruption, leans forward in her chair. "You were trying to buy people's votes?" she inquires surprisedly.
Dan realizes what he just spilled and begins to backpedal. "You have to really understand the time. It was New York in the '80s! It was very, very difficult to get people out to vote!" he says defensively.
"Still sounds to me like a crime…" Remecca responds, seeming entertained as Dan squirms.
Later, Dan attempts to stop Abby from doing an interview with Remecca herself.
"When I was listing my many accomplishments, I may have implicated myself with just a smidge of malfeasance," he confessed. "Now, Remecca is out to take me down!"
"Maybe if you talked about the court instead of being so selfish, you wouldn't be in trouble!" Abby says, still determined to do the interview to help set a good example for other courts.
"I'm telling you; it's a trap. She tricked me!" an alarmed Dan urges.
However, Abby doesn't budge and elects to sit down with Remecca for the podcast. The conniving Remecca immediately inquires about Dan Fielding and how Abby shortcut a few roles to get him his position. "It sounds like you manipulated the system to help out one of your father's old buddies," Remecca said cunningly. Abby then exits in a panicked state.
Now that Remecca has the dirt on both Dan and Abby, she could put the court in some serious jeopardy. Therefore, Dan attempts to bargain with Remecca. "I'll come clean about everything under one condition: You leave Abby out of it," he said, putting his job at risk.
Dan records the episode with Remecca, but someone comes and saves they day before it is aired. Remecca quickly loses all her sponsors and platform when her sound engineer leaks that she used to be a "shock jock" who created obscene content at an upstate radio station.  
Looks like Dan Fielding will stay at the court, after all! "You're not getting out of here that easy!" Abby says with a grin.
Watch Night Court Tuesdays at 8/7c on NBC and next day on Peacock.