NBC Insider Exclusive
Create a free profile to get unlimited access to exclusive show news, updates, and more!
Sign Up For Free to View
Stephnie Weir on Night Court: Where You Know Her From
She's a seasoned veteran of the comedy industry! Watch Night Court on NBC.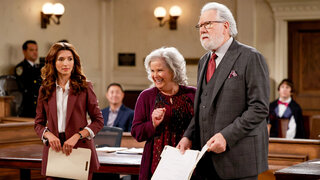 The new Night Court on NBC has been absolutely killing it with its exciting lineup of guest stars. And Season 1, Episode 9 hones this in even further with the investigative podcaster Remecca (not to be confused with Rebecca). The sneaky character is played by Stephnie Weir, and if you think she looks familiar, you're probably correct. Here's everything you need to know about Stephnie Weir.
Who is Stephnie Weir?
Stephnie Weir is a comedian, writer, and actress. You most likely recognize her from being one of the main cast members and writers of the Fox sketch comedy series Mad TV during Seasons 6-11 from 2000-2005. She was known for her celebrity impersonations, including Anna Nicole Smith, Reba McEntire, Betty White, Jennifer Aniston, Dido, Diane Keaton, Leonard Nimoy, and more.
Other roles of Weir's include Lorna in the sitcom Big Day, which ran from 2006-2007, a doctor named Bethany in Happy Together, which ran from 2018-2019, and Karen in Crazy Ex-Girlfriend.
In 2015, Weir was one of the lead characters in the FX show The Comedians, which followed the story of those trying to make it in the comedy industry. Weir played Kristen Laybourne, a producer who struggled with anxiety due to the stressful nature of her job.
"I feel like I know people like this. They don't make good choices in the minute, and then it kind of stockpiles and collapses on them. I often wondered while we were shooting this, 'Why did she get the job, again?' The only thing I can say is, she must be really great in an interview, and it just all falls apart after that. And a lot of that incompetence is in my wheelhouse. She maybe wasn't initially supposed to be as incompetent as she comes off as, but yeah, she's a magnet for trouble," Weir told Vulture about her The Comedians character.
Weir's also made appearances in Veep, Weeds, Key and Peele, Grace and Frankie, and Modern Family.
Originally from Texas, Weir decided to pursue acting by moving to Chicago and becoming a member of the improv troupe The Second City. As for her personal life, she's married to fellow actor Robert Dassie. The couple met while taking improv classes together and had a two-person show aptly titled WeirDass in 2019.
Watch Night Court Tuesdays at 8/7c on NBC and next day on Peacock.