NBC Insider Exclusive
Create a free profile to get unlimited access to exclusive show news, updates, and more!
Sign Up For Free to View
Mariska Hargitay is on a Romantic Italian Vacay with Husband Richard Hermann: See Pics
The SVU star is enjoying her time in the sun.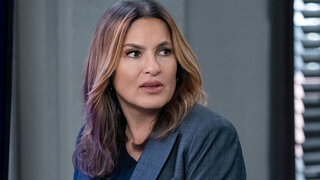 On June 18, Law & Order: Special Victims Unit star Mariska Hargitay took to her official Instagram page to post a sweet selfie of her and her husband Peter Hermann on a romantic trip in Italy. In the snapshot, we get a closeup of both the actors' faces while they stood inside a building with some gorgeous architecture, with the heavenly sun beaming directly on them. 
"Ciao💗🇮🇹," she captioned the post. 
The actress also posted a series of sunny, joyful selfies as they shared kisses while on a boat with the sea in the background. Hargitay captioned the post, "Amore🇮🇹💙💙💙 La dolce vita #summerlove #HappySummerSolstice."
This past May, the two hit the town in New York City, attending the Whitney Gala at the Whitney Museum in Manhattan. At the event, Hargitay stunned in a flowy beige gown and matching clutch bag, and Hermann looked dapper in a suit. Two months earlier, the couple had a little "Saturdate" during a tennis match. In a picture of them watching from the sidelines, Hargitay and Hermann twinned when they both wore some sleek shades. 
In a 2018 interview with People, Hargitay opened up about her tight-knit relationship with Hermann. 
"My husband is my North Star, and my kids are my teachers. Our family is so perfect, or at least perfect for me. Together we're just this whole, happy, joyful, chaotic, crazy unit," she said. "I've never known anything that was more right. Peter and I, we're so different that it's been amazing how we complement each other. He knows everything I don't."
In another interview with People a year later, Hargitay talked about strong their longtime marriage has been. "We sort of knew that we found the right one. I never thought it could be this good, and I never knew that I'd be reminded on the journey, that I'd marry the right one. That I waited and married the right one, and it's better than I thought it was. Because sometimes you take a snapshot and you go, 'I can't believe this is my life.'"
RELATED: Mariska Hargitay Made a Rare Red Carpet Appearance with Her Family of 5: See Pics!
Hermann himself also chimed in with some sweet words in yet another interview with People that same year. "I never thought I would have this much laughter in my life," he said. "Not just actual laughter, but also the way that Mariska is just the embodiment of laughter—of joy.,.It's the way we find our way back to each other. It's this fantastically, wonderfully ridiculous way that we can swing back and forth any number of times in any given day. But fundamentally we know we have the same destination. We know where we're headed, and it's good. And we know we'll get there together."