NBC Insider Exclusive
Create a free profile to get unlimited access to exclusive show news, updates, and more!
Sign Up For Free to View
Lopez vs Lopez Is Coming Back for Season 2: Everything to Know
The star-studded cast will be making a return to your screen midseason/summer 2024!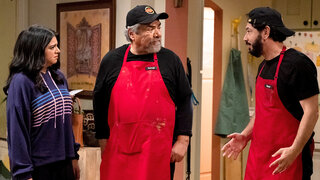 Lopez vs Lopez is coming back to your television screen!
NBC announced in May that the family comedy starring George Lopez and his daughter, Mayan Lopez, has been picked up for a second season that will premiere midseason/summer 2024. While little information is currently known about what to expect for the second season, you can catch up on episodes of Season 1 on NBC and Peacock to get your fix of the laughs and emotional conversations. 
Here's what to know about Lopez vs Lopez Season 2:
When is Lopez vs Lopez Season 2 coming out?
Midseason/summer 2024. Check back here for more details!
What is Lopez vs Lopez about?
Season 1 of Lopez vs Lopez premiered in November 2022. In the show, George Lopez plays a fictionalized version of himself, while his real-life daughter, Mayan Lopez, stars alongside him. The characters explore the complicated dynamic of their relationship together with a great sense of humor along the way. 
This season, we've seen George and Mayan have discussions about George's struggles with alcohol and Mayan's experience being a child of divorced parents. We've also seen an awesome slew of guest stars, including the rapper Snoop Dogg for the Season 1 finale. 
"I think [the show] is an amalgamation of the writers' cultural experience in the Latinx community as a whole," Mayan told NBC Insider. "We're just trying to tell our story and it's going through the vestibule of our relationship, so there are things that are very similar."
"When you watch it, the audience will see that there are really moments when I'm just talking to my dad," she added. "This show has so much heart, and it's funny."
Mayan also opened up to TheWrap in a vulnerable moment about the show's heart and what it means to her and the rest of the cast. "I think with this show, it was really a no-brainer of if everyone's available, we got to do this for not only ourselves, but for the fans, the people that have loved this show for so many years and have listened with their families. And that's also generational, and also being able to introduce a whole new era, a whole new generation to the original show … Being able to have them all together was really beautiful," she said.
How do I watch Season 1 of Lopez vs Lopez?