NBC Insider Exclusive
Create a free profile to get unlimited access to exclusive show news, updates, and more!
Sign Up For Free to View
8 Mayan Lopez TikToks That Are So Candid About Her Family
The Lopez family gets *very* vulnerable on TikTok.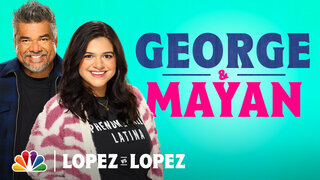 Lopez vs Lopez, the sitcom loosely based on the real-life father-daughter relationship between Mayan and George Lopez, has brought a comedic perspective to issues many divorced couples and their children experience. It's not every day that a father and daughter comedic duo get the opportunity to act out past experiences on TV. And surprisingly, it was Mayan's TikTok videos about her parents' divorce that garnered interest for the NBC show. 
"[Mayan] went on TikTok to respond to a video that someone made attacking me," George said on The Tonight Show. "It was a video of her twerking upside-down." After the video went viral, it was clear there was the potential for a television show. 
"And for both of us being performers, I think when we got presented with this opportunity, we kind of just jumped on it because I think our story can be so many other people's stories," Mayan said on TODAY. "Whether it's divorce or your parents are estranged or you have one parent that you're closer to than another, it's universal themes of family and love and the pain of reconnection."
These TikToks from Mayan, below, highlight these dynamics within her own family. 
1."When you catch up with family at thanksgiving"
Mayan and her dad parody the invasive conversations many people have with families during the holidays. The audio sample,"Do you have a history of mental illness...yes," sums up a surprising amount of conversations many of us have had with family members. 
2."Divorced Parents: Question Edition Part 1"
It's clear that despite the divorce of Mayan's parents, the Lopez family still has so much love for one another. As Mayan, George, and her mother (Ann Serrano) laugh about whether or not you're allowed to curse on the platform, it's easy to feel their unique yet relatable dynamic at play. 
3."Questions With My Divorced Parents: Part 2"
Mayan poses another controversial question to her parents, "Who screwed up your marriage more?" As you can imagine, things certainly get sassy.
4."Questions With My Divorced Parents Part 3
Mayan asks the divorcees something fun: "What's one weird quirk you remember them doing around the house?" George takes the opportunity to respond with, "Talking loud, slamming doors." 
5."Why do my divorced parents still act like they're married?"
This time, Mayan captures an endearing moment between her parents as Ann appears to inspect something on 
George's face while he tries to evade her. 
6."My divorced parents acting like they're married Part 2"
Watching Mayan, George, and Ann break out into a hysterical fit of laughter after Ann tries to show George "pictures of his daughter" that he feels are all way too similar will definitely warm your heart. 
7."Why do my divorced parents still act like they're married: Christmas Edition" 
We love getting a peek into the Lopez family traditions. According to Mayan's caption, Christmas 2022 was their "First Christmas as a family in 11 years."
8."My divorced parents still acting like they're married: Birthday Edition"
"Did the divorce papers really go through?" asks Mayan in the caption of the TikTok documenting her dad's birthday as Ann sings and sits on George's lap. 
Lopez vs Lopez returns with new episodes on Friday, January 6 at 8/7c on NBC and next day on Peacock.