NBC Insider Exclusive
Create a free profile to get unlimited access to exclusive show news, updates, and more!
Sign Up For Free to View
Mayan Lopez's Transparency About Her Anxiety Is So Relatable
Let's talk about anxiety.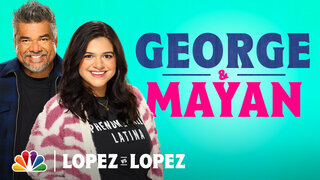 Lopez vs Lopez Season 1, Episode 2 explores how Mayan's character experiences and copes with various forms of anxiety. And it's so relatable.
The episode opens with Mayan and her boyfriend, Quinten (Matt Shively), making a TikTok video as a rehearsal for a potential home invasion. "You know, I always worry about break-ins," she says. "Having a plan calms me, so just go downstairs, and when you hear me, grab a weapon and then run back in." In true Quinten fashion, he renters on cue, holding a hairbrush, and it's off to the races. George later bursts in complaining about the commotion like he lives there—which, wait, he absolutely does now. 
We then see Mayan sitting on the couch watching a true-crime documentary with her mom, Rosie (Selenis Leyva), while she monitors the Citizen safety alert app before her dad bursts in (yet, again) and changes the channel. "I just got a notification on my Citizen alert app," she says.
Georges responds with a worried look: "Wait a minute, there's an app that can track whether you're a citizen?" he says jokingly. After a funny bit about George's concerns over his drug dealer's citizenship, the conversation shifts as Mayan remembers she forgot to take her anxiety medication.
George struggles to understand the nuances of Mayan's mental health from both a cultural and generational perspective. Although we already know Lopez vs Lopez is a fictionalized version of Mayan and George's relationship in real life, in a recent interview, Mayan revealed that the premise of this particular episode explored real misunderstandings they've had on the topic of anxiety. 
"There are some things that are based in reality," Mayan told NBC Insider. "There's an anxiety episode, like him not understanding my anxiety, really... because I've been in therapy for 15 years…[but] my character is teaching me about having more confidence and speaking to your needs."
In the show, George tries to calm Mayan's nerves about break-ins the best way he can: by installing a fake security system and enlisting his friend to put up ADT signs to deter potential burglars. However, the tone changes later that night, when George's friend stages a fake break-in. The altercation also leads Mayan to admit the source of some of her anxiety. 
"You weren't home," her character says to George. "Mom and I were alone in the house, and I was always worried something bad would happen. It gave me so much anxiety. I never felt safe, and that feeling has never gone away."
By the end of the episode, it's revealed that George is also suffering from anxiety, but he never knew how to name it or talk about it, which was a satisfying full-circle moment. And it shows how much Mayan and George will continue to learn from each other on this series. 
Watch Lopez vs Lopez on NBC Fridays at 8/7c and next day on Peacock.