NBC Insider Exclusive
Create a free profile to get unlimited access to exclusive show news, updates, and more!
Sign Up For Free to View
Kodi Lee Posted the Sweetest New Photo With His Mom
The mother-son duo are ultra-close! Watch America's Got Talent on NBC.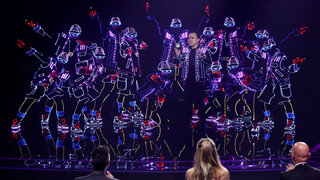 Kodi Lee is not afraid to show some love to his mama!
On May 2, the America's Got Talent Season 14 winner took to his official Instagram page to share a sweet snapshot of himself with his mother, Tina Lee, behind the AGT scenes. 
The black-and-white picture shows Lee and his mom sitting on top of an America's Got Talent: All-Stars trunk. Tina looks affectionately at her son while Lee smiles at the camera. 
"Have you followed my mom's page yet? If you have #heckyeah if not this is it @kodileesmom Please give her a follow💯💝🎯✔️🙏," Lee lovingly captioned the post. 
Kodi and Tina's closeness is so pure. In February, Kodi heartwarmingly told Deseret News that one of his favorite songs is "I Love You Always Forever" by Donna Lewis, because it reminds him of his mother. 
"It's my favorite love song because my mommy sang that song to me, my whole life, even as a baby!" Lee sweetly told the outlet in an email. "It makes me feel loved and secure that my mama will always love me and be there for me."
Tina has always been Kodi's biggest supporter and was with him every step of the way when he won Season 14 of America's Got Talent.
"When Kodi won … I felt like the whole world won because it opened up so many doors," Tina also told the Deseret News. "Everything that we fought for and everything that we've done for him, it made me just so happy to know that he's opening doors for all the other parents' kids.
"He's shown the world that anything is possible — no matter what," she continued. "He is the hardest worker that I've ever met — ever. When he has a goal, he keeps going, and I have to keep up with him."
During Lee's jaw-dropping Audition on America's Got Talent, Tina also accompanied Lee onstage. "We found out that he loved music really early on. He listened and his eyes just went huge. And he started singing, and that's when I was in tears,"  Lee told the Judges. "'Cause that's what I realized: 'Oh my gosh, he's an entertainer.' So, it actually has saved his life, playing music." 
Lee went on to win a Golden Buzzer for his rendition of "A Song for You" by Donny Hathaway, and unsurprisingly, took home the grand prize that season. 
America's Got Talent Season 18 premieres Tuesday, May 30 at 8/7c on NBC and next day on Peacock.