NBC Insider Exclusive
Create a free profile to get unlimited access to exclusive show news, updates, and more!
Sign Up For Free to View
AGT's Kodi Lee Just Won a Very Important Award
"I'm so excited to receive this award!" Lee said. Watch America's Got Talent on NBC.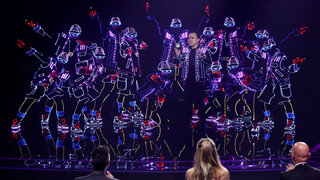 America's Got Talent Season 14 winner Kodi Lee was honored in the best way for his activism!
On March 5, Lee took to his official Instagram page to post a video of himself being given a GWEN Luminary Award. Although Lee was unable to be at the ceremony due to performing his show in Las Vegas (a prize he received for winning AGT), the speaker spoke fondly of his achievements.
"He's one of 25 prodigious musical savants in the world, Kodi Lee," the speaker explained to the audience, who erupted in cheers. She then told the crowd to check out Lee's original tune "Hello World."
The second part of the video then showed Kodi Lee's mom, Tina Lee, handing her son the award while he held it up for the cameras.
"I'm so excited to receive this award! Thank you Gwen, Brenda, and Tess! Heck yeah!" he exclaimed enthusiastically.
"WOW EVERYONE!!🎉 I am SO excited to share a clip from me accepting my GWEN Award from @gwenglobal . It was so amazing to have my team, mom, and support around me to receive this! 😮🫶🏼 Thank you @gwenglobal for this amazing opportunity you're the best! #Heckyeah! # kodilee #kodileemusic #kodileerocks #kodify #heckyeah #agt #agtlive #agtwinner #kodileesmom #agtsuperstars #agtgoldenbuzzer #helloworld #gwenaward," he wrote in the caption.
GWEN Global is a nonprofit organization that "utilizes the power of technology and multimedia to enable people to share their stories and transform lives." Its 2023 Luminary Awards, one of which was given to Lee, is dedicated to "individuals who are making a difference in the world through acts of kindness, leadership, mentorship, community building, and human rights activism."
It is an award that's totally well-deserved. In 2022, Lee performed multiple songs at the Pacific Autism Family Network's holiday luncheon fundraiser, helping raise over $1 million for the organization that is dedicated to supporting those on the autism spectrum.
"Heck yeah, I make people happy," Lee said of his appearance at the event, according to Global News.
"Dude, I'm a superstar," he joked.
As for another major recent endeavor for Lee? In 2023, he returned to television to be on America's Got Talent: All-Stars, which gathered the best of the best former Contestants from the AGT universe. Lee's performances included a rendition of "Biblical" by Calum Scott for his Audition and "Heroes" by David Bowie, which were, of course, mind-blowing as always. Lee ended up finishing in the Top 11, and afterwards posted a video of himself congratulating winner Aidan Bryant.