NBC Insider Exclusive
Create a free profile to get unlimited access to exclusive show news, updates, and more!
Sign Up For Free to View
Kelly Clarkson Hits All the Right Notes In an Edgy Cover of Gayle's "abcdefu"
Clarkson took on the 2022 rock hit for her latest Kellyoke.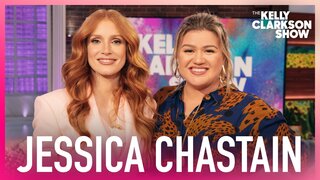 On March 30's episode of The Kelly Clarkson Show, Kelly Clarkson showed her rebellious side with an edgy cover of the hard-hitting tune "adbcefu" by Gayle. 
The performance started with some staccato, punk-rock-inspired guitar notes. "Forget you and your friends, that I'll never see again, everybody but your dog, you can all get lost," Clarkson started singing.
"I swear I meant to mean the best when it ended, even tried to bite my tongue when you started. Now you're texting all my friends asking questions, they never even liked you in the first place," she sang defiantly. 
"Dated a girl that I hate for the attention, she only made it two days, what a connection. It's like you'd do anything for my affection, you're going all about it in the worst ways," she sang as the track began to build up to the explosive pre-chorus. 
Kelly Clarkson covers "abcdefu" by Gayle 
"I was into you, but I'm over it now, and I was trying to be nice. But nothing's getting through, so let me spell it out..." she continued. 
"Forget you and your friends, that I'll never see again, everybody but your dog, you can all get lost," she repeated the self-assured lyrics. 
Watch her performance of the song here. 
Clarkson is no stranger to confronting these emotions in her music. Her new album, Chemistry, explores similar themes. 
"I didn't want everyone to think I was just coming out with some, 'I'm angry, I'm sad' [album], just one or two emotions. This album is definitely the arc of an entire relationship. A whole relationship shouldn't be just brought down to one thing. So there's the good, the bad, and the ugly kinda thing going on. Chemistry can be a really amazing sexy, cool, fun thing, but it can also be very bad for you. So that's why I named it Chemistry. I thought it was the perfect title to describe the entire album," she explained on her Instagram.