NBC Insider Exclusive
Create a free profile to get unlimited access to exclusive show news, updates, and more!
Sign Up For Free to View
How the Coaches Got Caught in a Double Steal for Kate Kalvach
Blake Shelton's risky Knockout gamble paid off in the end.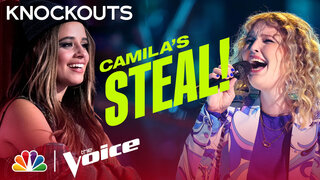 Blake Shelton may have surprised us all when he chose Bryce Leatherwood as his team's winner of November 1's three-way Knockout on The Voice, but there was a method to his madness.
The Coach couldn't resist the country singer's rendition of "Cold Weather" by the Zac Brown Band. However, his decision left Jay Allen and Kate Kalvach without a team—which was actually a calculated risk. Shelton knew the other Coaches were eyeing Kalvach, especially after her stirring cover of Justin Bieber's "Anyone." And sure enough, as soon as they got the chance, both John Legend and Camila Cabello pressed their buttons to Steal her.
"That's what I was waiting for right there!" Shelton said.
Legend knew that Cabello already had the advantage since Kalvach nearly chose the "Havana" singer during a heart-pumping Blind Auditions moment. But that didn't stop him from trying to win the Oklahoma City native over.
"It seems, Kate, that Blake has no say, and he knew one of us would want to Steal you," Legend said. "You know what, Kate, you were incredible, and I would love for you to be a part of my team. I know you and Camila have history from the Blinds. Honestly, I just truly wanted you to know how great you did today, and it was truly deserving of you being in the Lives, and I'm so excited for you that you will be."
Cabello had a slightly different (a.k.a., a much more forward) approach.
"Kate, will you marry me?" she asked. "I will give you everything, Kate. I love you. Your voice brings me to tears, not literally yet. But we could create the performance where it literally does bring me to tears. There are GIFs of [Season 21 Coach] Ariana [Grande] crying. Don't you wanna be a part of the first Camila Cabello crying GIF?"
In the end, Kalvach chose Cabello and officially made the switch to Team Camila after a tense Steal-Off. 
"Both of you would be amazing choices. Both of you I would be completely honored to work with," she said. "OK, I have to go with—because of our history—Camila. Sorry, John!"
Watch The Voice on NBC Mondays and Tuesdays at 8/7c and next day on Peacock.