NBC Insider Exclusive
Create a free profile to get unlimited access to exclusive show news, updates, and more!
Sign Up For Free to View
Why Jay Allen's Dramatic Steal on The Voice Almost Got Blake and Gwen 'Divorced'
It was a couple's quarrel unlike no other.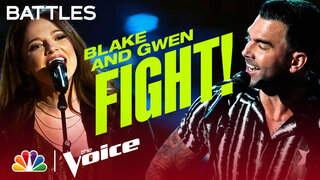 There was no right or wrong choice for the winner of the Battle between Cara Brindisi and Jay Allen on The Voice Season 22, Episode 9. Both performed beautifully—but their Coach, Gwen Stefani, ended up picking Brindisi. That was OK, though, because swiftly following this, she attempted to Save Allen and keep him on her team. 
That's when things got chaotic. "Well, honestly, that was such a hard [Battle] for me, and it was so confusing because I knew that I waned to Save Jay—" Stefani said before getting interrupted by her husband, Blake Shelton, who then said, "What if somebody Steals Jay?" 
That's right: Blake Shelton used his only Steal for the Battles on Jay Allen—and, in effect, his wife, Gwen Stefani. 
"Trouble in paradise," John Legend joked as Host Carson Daly remarked, "It's a Save against a Steal between husband and wife...Jay Allen may cause a celebrity divorce!" 
Related: So Many Celebs Are Appearing on Carson Daly and Blake Shelton's New Game Show
Thus began the most high-stakes couple's quarrel of the season (so far). "What a jerk," Stefani said playfully. "I'm shaking...I'm so mad!" 
So both Stefani and Shelton had to plea their cases to Allen. "Can I say something before you get me divorced?" Shelton said. "I just wanted to confirm the fact that you're a great singer, and damn it, I had a Steal, so I hit my button. That's what it comes down to." 
Meanwhile, Stefani said, "I wasn't ever 'gonna let you go. I was always 'gonna press my button for you." 
It was a tough choice, but Allen ultimately decided to switch to Team Blake. "I've been in Nashville almost 10 years," he said. "Blake Shelton is a legend...I am in the country music business, and you are country music." 
Yes, he is. But will switching teams bring Allen closer to victory? To find out, watch The Voice on NBC Mondays and Tuesdays at 8/7c and next day on Peacock.