NBC Insider Exclusive
Create a free profile to get unlimited access to exclusive show news, updates, and more!
Sign Up For Free to View
Is There a Kelly Clarkson Christmas Special in 2022?
The talk show Host knows how to usher in the holiday cheer.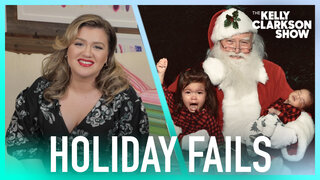 With two holiday albums under her belt (2013's Wrapped in Red and 2021's When Christmas Comes Around), it's no surprise that Kelly Clarkson has a variety of Christmas songs to get us in the festive spirit. Lucky for us, The Kelly Clarkson Show Host showed off her unmatched vocals in a seasonal special from 2021 titled Kelly Clarkson Presents: When Christmas Comes Around, where she performed the best of the best when it comes to her Christas music.
Below, here's everything you need to know about how to watch Kelly Clarkson Presents: When Christmas Comes Around. 
Is there a new Kelly Clarkson Christmas special in 2022?
Unfortunately, Clarkson does not have a new holiday special airing this 2022 season. However, you can still tune in to her 2021 hour-long Christmas event, When Christmas Comes Around.
How can I watch Kelly Clarkson Presents: When Christmas Comes Around?
The special is currently available to stream on both NBC.com and Peacock. Celebrity guests include former The Voice Coach Ariana Grande, Leslie Odom Jr., Melissa McCarthy, and Amy Poehler.
What Christmas songs does Kelly Clarkson sing on her special?
Clarkson performs a selection of holidays tunes including her 2013 original track "Underneath the Christmas Tree," "Christmas Isn't Canceled (Just You)," "Santa, Can't You Hear Me" featuring Grande, and "Merry Christmas (To the One I Used to Know)". The latter has an emotional origin story. 
"There aren't many holiday songs for people feeling lost and just plain sad," Clarkson said during the special. "The holidays come with a whole range of emotions. I'm going to be real with y'all: When I wrote this next song, I was crying my face off, which happens even at Christmas time. I'd just put my kids to bed, and I was just going through it, having a really hard time."
She continued, "I wrote this song for me but also because there aren't many holiday songs for people feeling alone or lost or just plain sad, other than Dolly Parton's classic, 'Hard Candy Christmas,' which we all love. It's about getting through a tough holiday. I absolutely love that song, and it allowed me to write this."
To hear more awesome Kelly Clarkson performances, check your local listings for The Kelly Clarkson Show.