NBC Insider Exclusive
Create a free profile to get unlimited access to exclusive show news, updates, and more!
Sign Up For Free to View
Is a New Episode of Chicago Med on Tonight? April and May 2023
With Gaffney's patient care in peril, Chicago Med fans want to know what happens next.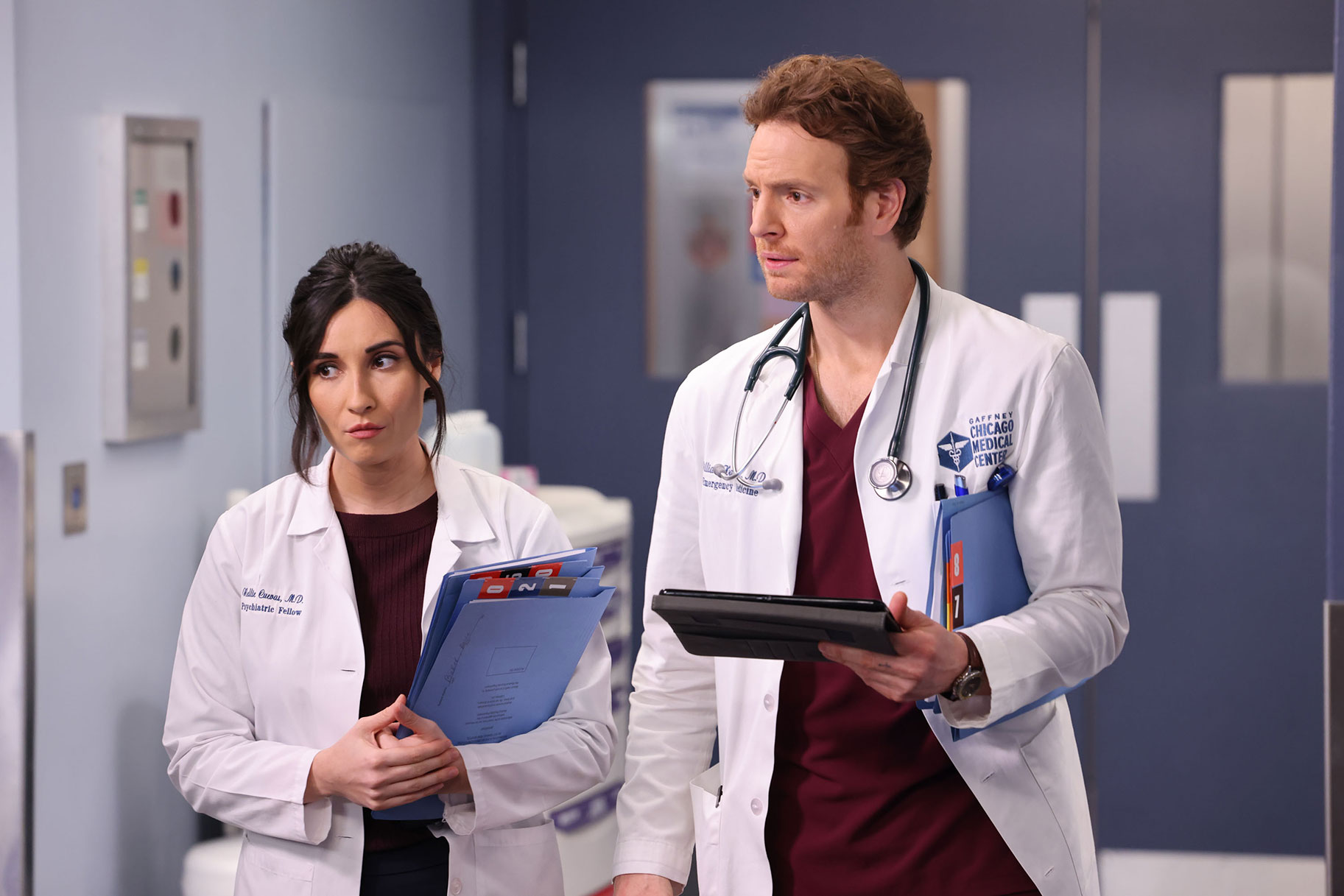 Chicago Med Season 8 has been a nail-biting watch, and with many of the Gaffney doctors and nurses' careers in peril, viewers are perched to learn how the action plays out. However, unfortunately for Chi-Hards everywhere, they'll need to hold off on new episodes for a bit.
Jack Dayton's (Sasha Roiz) insidious corporate interests have led to Gaffney potentially being turned into a for-profit hospital. Dr. Will Halstead (Nick Gehlfuss) and Season 8 newcomer Dr. Grace Song (T.V. Carpio) have been cuddling up, while the new relationship between Dr. Charles (Oliver Platt) and Liliana is stronger than ever. Dr. Hannah Asher (Jessy Schram) and Dr. Crockett Marcel (Dominic Rains) have been busy taking care of patients and their colleagues as workplace tensions escalate. Simply put: The action is non-stop. 
Find out when new episodes of Chicago Med return, below.
Is a new episode of Chicago Med on tonight? April and May 2023
Sadly, no.
The three One Chicago series are on a brief hiatus and will not release new episodes on April 12, 19, and 26, 2023. The break is the perfect opportunity to catch up on your favorite episodes on Peacock.
When will new Chicago Med episodes return? 
New episodes of Chicago Med will return on May 3, 2023
NBC Insider recently chatted with Med's Brian Tee, who played Dr. Ethan Choi from Seasons 1-8. Tee returned to direct Season 8's "Know When to Hold and When to Fold." 
He told NBC Insider that directing is something he's wanted to do since falling in love with the One Chicago set. "It's been something that I've been aspiring to do for, what I would say, since the start of Chicago Med. So given that, I think it's both this little bit of nerves, but then also the exhilaration to be able to fulfill certain aspects that you've been striving to do for such a long time."
Tee adds, "But it's a little more special, especially when you've been with this particular group of people for so long. It makes certain moments, and I'll even say as small as certain takes, that much more fulfilling because you're doing it with your friends. You're doing it with the people that you love."
Watch Chicago Med on NBC Wednesdays at 8/7c and the next day on Peacock.