NBC Insider Exclusive
Create a free profile to get unlimited access to exclusive show news, updates, and more!
Sign Up For Free to View
Ice-T Holds His 7-Year-Old Daughter Chanel in a New Candid, Heartwarming Video
The SVU star brought Chanel to his latest concert.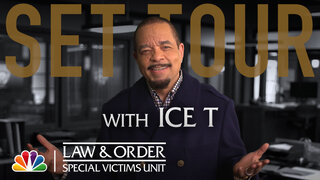 Ice-T gave his daughter a special glimpse into his passion for performing this week. 
On June 4, the Law & Order: Special Victims Unit star shared a heartwarming clip of him at a concert in Brooklyn with his daughter, Chanel, on stage. The sweet video showed Ice-T holding his daughter in the crook of his arm while he gripped a microphone in his other hand. There, he gently crooned the lyrics to the song "Hey Love" by Delfonics to an eager crowd. 
"We had a great time today a the @thebushwickcollective Block party… And we always end my show with the Delfonics… 'Hey Love' 🔥" Ice-T captioned the post. 
Ice-T and his wife Coco Austin welcomed Chanel in 2015. Since then, he has been proudly showing off his pride and joy to the world, especially on social media. This April, he took to his official Instagram page to post an adorable photo of him, Austin, and Chanel having a night out in New York City. In the snapshot, Chanel's resemblance between her parents is uncanny.
"The ICE FAMILY 💎 Jersey view of NY," he captioned the post. 
Earlier that month, Ice T also previewed a May show with his heavy metal band Body Count by posting a photo of him and Chanel rocking out on a big stage. In the picture, the 7-year-old confidently held up a rock and roll sign with her hand, echoing after her father's stage presence already. 
"Yes! The Infamous @babychanelnicole will be ROCKIN with @bodycountofficial in concert May 13th in Las Vegas," Ice-T captioned the IG post. "At the @SickNewWorld Festival💥 Do NOT miss this!"
Ice-T clearly does not hold back when it comes to showing everyone what a proud father he is. "I'm taking a lot of pictures. I'm that same guy that you go, 'Oh, my daughter…' and before I know it I'm showing you pictures," he said in a 2020 interview with People. "I said that I'm not going to be that guy, but now I'm just like, 'Wait, look,' and, 'Wait, look at this one,' and, 'Wait a minute, hold up.' You can't help it. You're just happy."
Ice-T also revealed on TODAY that his daughter inspired him to take care of his health. "I've got to live. I can't go nowhere. I've got to keep chasing these bags. I got a baby girl," he said profoundly.