NBC Insider Exclusive
Create a free profile to get unlimited access to exclusive show news, updates, and more!
Sign Up For Free to View
Jimmy Fallon's Tiny Song Recaps Everything The Tonight Show Missed, from Taylor and Travis to Barbenheimer
The Tonight Show Starring Jimmy Fallon Host's monologue offered more jokes about Taylor Swift and Travis Kelce's burgeoning romance. 
On October 2, The Tonight Show Starring Jimmy Fallon returned for its first new episode in five months following the end of the WGA strike. As Fallon excitedly welcomed the audience and his staff back to the show, he also acknowledged that a whole lot of stuff happened while the show was off the air. And because Fallon famously loves a musical moment, performing a new Tiny Song was the perfect way to bring us all up to speed.  
"Let's catch up on what we missed/First things first, there's Taylor Swift. Wonder if she'll write a song/about meeting Travis Kelce's mom," Fallon sang (that last line was a sudden interjection from a football announcer).
RELATED: Here's The Tonight Show Guests for the Week of October 2
Sprinkling in more well-timed sound bites, Fallon tapped on a ukulele as he went on to describe everything from the 2023 GOP debates, to "Barbenheimer," to that month where we all celebrated Grimace's birthday by drinking purple McDonald's milkshakes.
You'd be forgiven if you already forgot that some of these things happened weeks-to-months ago, so the recap is as useful as it is hilarious.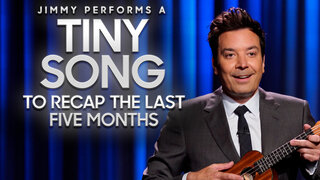 The Tiny Song wasn't Fallon's only mention of a certain pop star who's currently taking the football world by storm. "We are back and we have so much news to cover, but I'm gonna sum it up in just two words: Taylor Swift," Fallon said in the October 2 Tonight Show monologue, before pretending to sign off for the evening.
Noting that the Eras Tour singer had attended a Kansas City Chiefs game for the second time to cheer on tight end Kelce, Fallon joked, "and if you took a drink every time they showed Taylor on TV, you're in your hangover era."
"Ironically to get tickets, Taylor had to spend six hours on the phone with Ticketmaster," he added. Fallon went on to offer up some hysterical (and 100 percent fake) quotes from other football players concerning Swift and Kelce's burgeoning romance, including one from Kelce's brother, Philadelphia Eagles player Jason Kelce.
Watch the monologue below.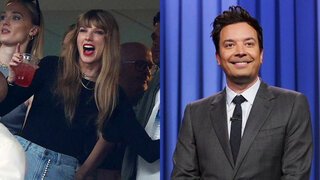 Fallon welcomed Matthew McConaughey and John Mayer as his firsts guests back on Monday, with appearances by Maluma, Taraji P. Henson, Chelsea Handler and more later in the week. Watch The Tonight Show weeknights at 11:35/10:35c, streaming the next day on Peacock.