NBC Insider Exclusive
Create a free profile to get unlimited access to exclusive show news, updates, and more!
Sign Up For Free to View
Kelly Clarkson Hits Jaw-Dropping Whistle Note During New Duet with D. Smooth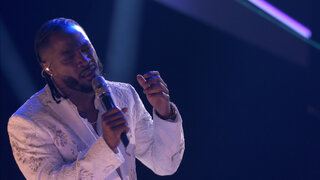 Season 23 of The Voice has been one for the books with its mind-blowing talent. See for example: The aptly-named D.Smooth, who's made it to the Top 5 under Team Kelly with his sultry vocals.
During the finale, D. Smooth and Kelly Clarkson brought down the house with their joint performance of "Slow Dancing in the Dark" by Joji. While performing, Clarkson hit an unreal whistle note that took the performance to new heights. 
All About D. Smooth
Twenty-five-year-old D. Smooth sang "Perfect" by Ed Sheeran for his Blind Audition, and his voice prompted a chair turn from both Niall Horan and Kelly Clarkson. While Clarkson turned right away, Horan pressed his button with a few seconds left in the song, something that Clarkson pointed out to try to convince the singer to join her team. D. Smooth ended up going the Team Kelly route, a choice that got him far in the competition. 
For the Battle Rounds, there was a twist. D. Smooth was stolen by Chance the Rapper, then stolen back by Clarkson when she used her Playoff Pass. "He's one of my favorite people I've ever had on my team, ever, and I had to use my Playoff Pass on him because I just want him to advance," Clarkson said. "I just want him to be in the Playoffs, and I want to see what he's going to do. He's hungry for it, y'all. He wants it."
For the actual Playoffs, D. Smooth sang a rendition of Khalid's "Location" that was, well, smooth. 
"It's almost like your song, that you released this song, and it's your own, and that's a very rare thing. Congratulations, man, it was awesome," Clarkson gushed. 
"I honestly went with D. Smooth because from the get-go he's tugged at special strings in my heart and I love him, like, since the Blinds," Clarkson also said of her decision to choose D. Smooth for her team. "He has such a cool gift, y'all, like he just stands out to me. We just haven't had a singer like him in a long time, so I'm very excited."