NBC Insider Exclusive
Create a free profile to get unlimited access to exclusive show news, updates, and more!
Sign Up For Free to View
Why Chrissy Metz Says She Had to 'Beg' For Her Boyfriend to Ask For Her Number
"He's such a gentleman," the This Is Us star said while on The Kelly Clarkson Show.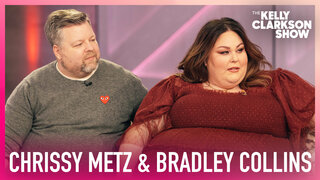 This Is Us star Chrissy Metz sat down with Kelly Clarkson this Valentine's Day to talk about her relationship with boyfriend Bradley Collins. 
On February 14, Metz opened up about the adorable origins of how the two met. They first matched on a dating app during the beginning of the pandemic, and the rest is history.
"I swiped, and I was like, 'Oh my gosh! He's so handsome, is he real?' And I guess the funny part is that he thought he was being catfished because I didn't put much on my bio," Metz told Clarkson.
"Somebody will actually engage in conversation if they're interested and not for the wrong reasons," she elaborated.
Then, Metz explained how she had to make the first major step in the courtship.
"I basically had to beg him to ask for my phone number," she said as the audience laughed.
"We talked for a few weeks," Collins chimed in.
"A month," Metz corrected with a jokingly exasperated sigh.
"I love your relationship already!" Clarkson exclaimed.
When it was time for their first in-person date, they got rained out at a socially distanced outdoor park. "We were gonna have a little picnic, and it rains. And I thought, 'Oh my gosh, is this a sign?'" Metz said. "And I was like, no, no, no, it's fine. 'Cause it's good luck, and it's fine. It's also the first date. It's romantic. It can be."
"Anyway, we didn't make it to the park. I was like, 'Oh, well what about going to your house?' and he's like, 'I don't know, I haven't met you yet.' He's such a gentleman. I know, obviously he waited for a month to ask me for my phone number," she joked again.
"She's still bringing it up! I like it," Clarkson said.
"It's been three years almost," Metz continued. "I can't get over anything. But I was like, 'Well we can, like, social distance in your house,' and he is like, 'OK,' so I literally, like, unlock the door, I'll come in, and you just go to the couch. 'Cause this is before you could test. Like, there are no tests available. So you couldn't even find out if you were potentially sick or not. So I was like, we'll just shout across the living room. It was so romantic. But that was our first date." 
To see more of Metz, watch every episode of This Is Us on NBC. Also: Be sure to check your local listings for The Kelly Clarkson Show.