NBC Insider Exclusive
Create a free profile to get unlimited access to exclusive show news, updates, and more!
Sign Up For Free to View
Chris Meloni Filmed the Weirdest, Funniest Video For Mariska Hargitay's Birthday
The Law & Order: Organized Crime actor paid tribute to his longtime co-star!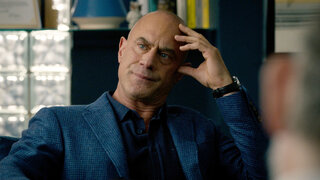 It's Law & Order: Special Victims Unit star Mariska Hargitay's birthday, and who better to honor her than her co-star and close friend, Chris Meloni?
On January 23, the Law & Order: Organized Crime actor posted an ultra-quirky video dedicated to Hargitay on his official Instagram page. In the zany clip, we get an extreme closeup of Meloni's forehead and eyes as he whispers cryptically "Marsha? You there? Do you know what today is? I do."
"Happy…!" he exclaims before the video dramatically cuts off. "Celebrate it, Marsha," he captioned the post. LOL!
Happy Birthday, Mariska!
Meloni and Hargitay have the most adorable friendship, and this isn't the only time he has given a nod to her publicly. During the 2021 Glamour Women of the Year Awards, he gushed over her while introducing her to the audience.
"I have been trusted with one task tonight: introduce someone who needs no introduction, who I've been working with for 13 years, and been friends with for 22," Meloni said in his speech. "She's got great energy, great personality. So tonight, I say this: Radiant. Charming. Funny. Generous. Elegant. Bawdy. Honest. Appreciative. Inclusive. Direct. Vivacious. That's my favorite word; it comes from the Latin, to live. Which is what she does with great passion, every day, with everyone that she engages, be they friends, family, strangers, or commitments."
"She's fearless, without the bravado of the warrior stance, but always with the open arms, the open heart. She's a connector of people because she knows we're all better when we're working together. She is as comfortable in the sacred as she is in the profane; she is a soul in the constant search of the beauty and the truth that she knows that this world holds, but she also knows requires vigilance, persistence, and insistence to pry magic from the oftentimes mundane reality. Her first instance is to always react with compassion and empathy. She sees hope in the hopeless; she sees the potential in the you, and me, and us," he added.
Watch Law & Order: Organized Crime on NBC Thursdays at 10/9c and next day on Peacock. 
Watch Law & Order: SVU on NBC Thursdays at 9/8c and next day on Peacock.