NBC Insider Exclusive
Create a free profile to get unlimited access to exclusive show news, updates, and more!
Sign Up For Free to View
Chiefs' Patrick Mahomes is Also a Total Sneakerhead: Check Out His Collection of Kicks
Sunday Night Football - and awesome sneaker - star, Patrick Mahomes.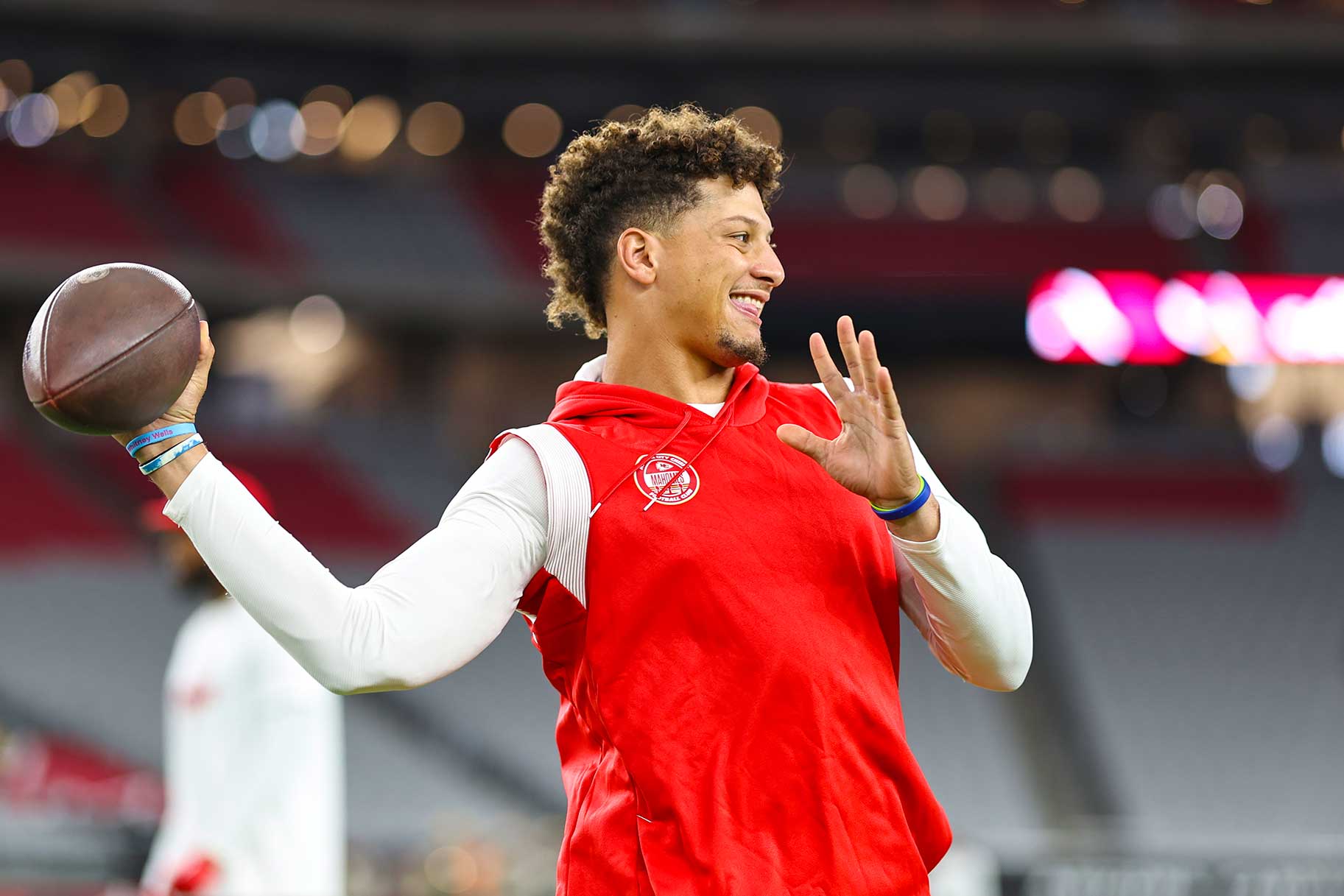 Remind us never to get between Patrick Mahomes and his favorite kicks. In addition to sporting his own bespoke Adidas shoe line that covers everything from the athletic to the casual, the Super Bowl-winning quarterback for the Kansas City Chiefs is a self-confessed sneakerhead — so much so that he carved out an entire room in his very own home to showcase (and of course protect!) his favorite pairs. 
All eyes will be on Mahomes and the Chiefs as they, ahem, kick off the 2023 NFL season, squaring off on September 7 at 8:20 pm. against the Detroit Lions in the first weekly matchup of this year's NBC's Sunday Night Football, airing on NBC and also streaming on Peacock. But maybe those eyes should be on Mahomes' actual kicks instead: Chances are, in fact, that the shoes he'll be wearing on his Arrowhead Stadium home turf this week could even end up back at the house, assuming a place of honor among his permanent mega-collection. 
RELATED: How to Watch Sunday Night Football on NBC and Peacock 
Mahomes and wife Brittany gave Bleacher Report a shoe-room tour back when they first settled into their Kansas City-area home, and it's a full-on shrine to all things cool and sneaker-y. Housing more than 180 pairs of Mahomes' personal favorites, it's a top-to-bottom footwear palace befitting the current reigning Super Bowl MVP.  
Check it out:
Insider Patrick Mahomes' room of sneakers
Boasting museum-grade sneaker shelves that stretch to the ceiling, Mahomes' inner sneaker sanctum features custom mood lighting that can change on a whim with voice-issued Google commands. The two-time MVP's most prized pieces of footwear get special treatment atop more roomy, eye-level pedestals, while Mahomes' favorite sunglasses — highlighted by his penchant for full-coverage, visor-style shades — add to the mix with their own special pick-a-pair shelving niche.
Heck, there's even a security camera to keep watch over things... all the better, of course, to guard Mahomes' cherished kicks from sneaky, sneaker-coveting visitors. "The camera is definitely the most important — I mean, it's showing all the most valuable things in the house," Mahomes jokes in the video. "…I can look to make sure all my shoes are still here."
Just like your typical mega-enthusiast, Mahomes sounds like a guy who's forever in awe of his favorite gear — which means exercising at least some restraint when deciding which shoes deserve pride of place in his collection. "When you don't have enough room, I feel like you lose the value of some of your shoes," he explains in the clip. "Some of the shoes that you've worn once, you forget about 'cause you don't see 'em. So I wanted the shoe room to highlight that."
Even at 180 pairs, the enviable sneaker assembly took some careful curating to strike a balance between manageable and excessive. "I feel like that's enough," Mahomes said of his 180-pair limit. "I can wear each one of 'em, like, twice a year!" 
As you'd expect, Mahomes' own line of sneakers features heavily in his personal mix, but so too does an eclectic selection of sentimental winners. In addition to the very first pair of Adidas kicks Mahomes wore in his first-ever photo shoot for the brand, there's a nice smattering of retired cleats from NFL game days, a bespoke pair of Game of Thrones Adidas Ultra Boosts ('I'm a big Game of Thrones guy…Representing for Jon Snow!"), and a dark-and-dangerous set of Yeezy Triple Black 750s — among the QB's personal favorites. 
How old (and tall!) is Patrick Mahomes, anyway?
All this pricey, next-level shoegazing is none too shabby for a dude who's still cutting his teeth — at least in terms of actual years — in a league that he's quickly come to dominate. After lighting up the gridiron for the Texas Tech Red Raiders in college, Mahomes entered the NFL in 2017 and spent just one single year as a second-string backup before winning the Chiefs' starting QB job for good with the start of the 2018 season. 
Fast forward to today, and the 6'2'', 225-pound Mahomes — an almost-ambidextrous slinger with uncanny accuracy even when tossing the occasional left-handed pass — is set to begin the 2023 NFL season (his seventh in the league) at the still-tender age of 27. 
That leaves him plenty of future opportunities to pad his stats with even more Pro Bowl selections (he's already repped the AFC there five times), more Super Bowl appearances (he's made the big game three times so far, walking away twice as the winner), and — of course! — more sneakers to round out his ample collection.
How to Watch Patrick Mahomes and the Chiefs vs. Lions on Sunday Night Football 
Mahomes and the Chiefs begin their quest to repeat last year's Super Bowl LVII victory (a 38-35 thriller over the Philadelphia Eagles) on Thursday, September 7, when they'll face off against the Detroit Lions in a featured NBC matchup that marks the opening game of the 2023 NFL season. 
Despite falling on a Thursday, the game will serve as the inaugural slice of weekly NFL action on this year's roster of NBC Sports' Sunday Night Football, with the Chiefs playing host to the visiting Lions — a cross-conference NFC foe they haven't faced since the 2019 regular season. Pregame coverage on NBC begins at 7 p.m. ET, with kickoff set for 8:20 p.m. ET. 
NBC's week-one NFL coverage will also stretch on into the weekend, with the New York Giants and Dallas Cowboys set to tee off in the featured SNF game on Sunday, September 10. Kickoff is set for 8:20 p.m. ET. Both Thursday's and Sunday's matchups also will be streaming live in simulcast on Peacock.